Albert Research Group
---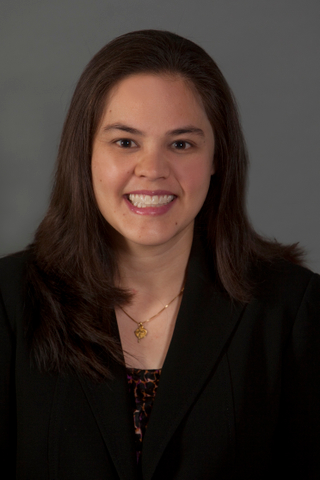 Julie N.L. Albert, Ph.D.
Assistant Professor
Robert and Gayle Longmire Early Career Professor in Chemical Engineering
Email: jalbert6@tulane.edu
Education
B.S., University of Florida, 2005
Ph.D., University of Delaware, 2012
Biographical Sketch
Julie received her B.S. in Chemical Engineering from the University of Florida in 2005 and her Ph.D. in Chemical Engineering from the University of Delaware in 2011. Subsequently, she pursued postdoctoral research studies at North Carolina State University. Her doctoral and postdoctoral research focused on developing gradient methods for exploring the effects of surface interactions on block copolymer thin film self-assembly and tailoring the chemical and mechanical properties of silicone elastomer networks for cell mobility studies and peptide assembly. At Tulane, Julie's primary research interests are centered on the use of combinatorial methods to engineer nano- and micro-structured polymeric materials for applications related to technology development in the energy, health, and environmental sectors.
Julie has authored several scientific articles, including three topical reviews, in peer-reviewed journals such as ACS Nano, NanoLetters, Materials Today, Chemical Society Reviews, and Energy and Environment Focus. She has presented her research at a number of national meetings, including two award symposia (Padden Award Symposium, 2011 APS March Meeting; Akzo Nobel Student Award Symposium, 2010 ACS National Meeting) and an invited talk at the 2012 AIChE National Meeting. During her doctoral studies, Julie was the recipient of an NSF Graduate Research Fellowship and a Teaching Fellowship, and during her postdoctoral studies, she received the AIChE Women's Initiative Committee Travel Award in 2012. In 2015, she was selected for a prestigious Early-Career Research Fellowship by the National Academy of Sciences Gulf Research Program to develop nanoporous membranes for enhanced oil recovery from spills. In addition to her research-related activities at Tulane, Julie also serves as the faculty advisor for the Society of Women Engineers undergraduate student organization on campus.
Ph.D. Graduate Students
---
Amy Dubetz Goodson
Bachelors, Chemical Engineering, Colorado School of Mines (2009)
Doctoral Student since 2016
After receiving her B.S. in Chemical Engineering from the Colorado School of Mines, Amy spent seven years working for Chevron Exploration and Production as a Facilities Engineer. She held several roles in both New Orleans and Houston, but specialized in process engineering and capital project management to support offshore oil and gas operations. Amy began her graduate work at Tulane in the fall of 2015 where she is co-advised by Dr. Julie Albert and Dr. Hank Ashbaugh. Her research uses coarse-grained computer simulation techniques (Dissipative Particle Dynamics) combined with experimental results to analyze behavior of block copolymer-homopolymer blends. She is also the co-founder of Tulane's Graduate Women in Science and Engineering (WISE) organization. Outside of Tulane, she enjoys spending time with her husband and dog, running, watching baseball, and taking advantage of all of the food and entertainment that New Orleans has to offer. Amy is supported by an NSF Graduate Research Fellowship.
Email Amy
Amy's LinkedIn Profile
Md Fakar Uddin
Bachelors, Chemical Engineering, Colorado School of Mines (2009)
Doctoral Student since 2016
Email Uddin
Samuel Bliesner
Bachelors, Chemical Engineering, Florida State University (2014)
Doctoral Student since 2017
Sam grew up in the small beach town of Indian Rocks Beach, FL. He studied Chemical Engineering at the Florida State University in Tallahassee. He worked in the research lab of Dr. Jingjao Guan in the fabrication of nanoparticles via layer-by-layer microcontact printing. After working in Dr. Guan's lab for 10 months, he took a co-op position for the Summer of 2014 with DuPont at their Spruance site in Richmond, VA. During his time, he worked with R&D for the Kevlar(R) business area, focusing on degradation studies of novel Kevlar(R) polymer throughout the Kevlar(R) spinning process. After graduating the following spring of 2015, he received a job offer to work as a contracted reliability engineer with DuPont at the same site in Richmond, VA. He served as a reliability engineer for the Kevlar(R) Pulp business area, specializing in the predictive and preventive maintenance of area equipment, as well as, assisting in process troubleshooting. He began his education at Tulane in August of 2016 and joined the Albert Lab that November. His research consists of thin film polymer crystallization.
Email Sam
Sam's LinkedIn Profile
Postdoctoral Researchers
---
Sourav Chatterjee
Bachelors, Chemistry, University of Delhi (2007)
Masters, Polymer Chemistry and Plastics Engineering, University of Massachusetts, Lowell (2010)
Doctorate, Polymer Chemistry, Louisiana State University (2016) with Evgueni Nesterov
Postdoctoral Research, Chemical Engineering, Tulane University (2018)
Email Sourav
Sourav's LinkedIn Profile
Doctoral Students
---
Giovanni Kelly
Bachelors, Chemical Engineering, Manhattan College (2013)
Doctorate, Chemical and Biomolecular Engineering, Tulane University (2018)
Email Gio
Gio's LinkedIn Profile
Baraka Lwoya
Bachelors, Chemical Engineering, New Mexico State University (2013)
Doctorate, Chemical and Biomolecular Engineering, Tulane University (2018)
Email Baraka
Baraka's LinkedIn Profile
Masters Students
---
Sloan Lipman
Bachelors, Biochemical Engineering, University of Georgia (2014)
Master of Science, Chemical and Biomolecular Engineering, Tulane University (2015)
Email Sloan
Sloan's LinkedIn Profile
Debaroty Roy
Bachelors, Chemical Engineering, Colorado School of Mines (2009)
Master of Science, Chemical and Biomolecular Engineering, Tulane University (2018)
Email Debaroty
Debaroty's LinkedIn Profile
Undergraduate Students
---
Cole Ashman
Bachelors, Chemical Engineering, Tulane University (2016)
Email Cole
Cole's LinkedIn Profile
Arissa Baiamonte
Bachelors, Chemical Engineering, Tulane University (2017)
Email Arissa
Arissa's LinkedIn Profile
Marissa Beam
Bachelors, Chemical Engineering, Tulane University (2017)
Email Marissa
Marissa's LinkedIn Profile
Amelia Bergeson
Bachelors, Chemical and Biomolecular Engineering, Tulane University (2018)
Email Amelia
Amelia's LinkedIn Profile
Brett Bomwell
Bachelors, Chemical Engineering, Tulane University (2016)
Brett's LinkedIn Profile
Winnie Brackey
Bachelors, Chemical Engineering, Tulane University (2017)
Email Winnie
Winnie's LinkedIn Profile
Kaseba Chibwe
Bachelors, Chemistry, Pepperdine University (2018)
Kaseba's LinkedIn Profile
Dan Christiansen
Bachelors, Chemical and Biomolecular Engineering, Tulane University (2018)
Email Dan
Dan's LinkedIn Profile
Samuel Copper
Undergraduate Student
Tulane University (Class of 2019)
Email Sam
Sam's LinkedIn Profile
Aomeng Cui
Undergraduate Student
Columbia University (Class of 2019)
Aomeng's LinkedIn Profile
Heran (Priscilla) Feng
Undergraduate Student
Tulane University (Class of 2020)
Email Heran
Heran's LinkedIn Profile
Alexander Flanagan
Undergraduate Student
Tulane University (Class of 2021)
Email Alex
Alex's LinkedIn Profile
Fabiana Fornerino
Bachelors, Chemical and Biomolecular Engineering, Tulane University (2015)
Email Fabiana
Fabiana's LinkedIn Profile
Imri Frenkel
Bachelors, Chemical and Biomolecular Engineering, Tulane University (2018)
Email Imri
Imri's LinkedIn Profile
Rachel Galaska
Undergraduate Student
University of Dayton (Class of 2019)
Rachel's LinkedIn Profile
Kathleen Granger
Bachelors, Chemical and Biomolecular Engineering, Tulane University (2016)
Email Katie
Katie's LinkedIn Profile
Amira Muhsen
Bachelors, Chemistry, Xavier University (2016)
Bachelors, Chemical and Biomolecular Engineering, Tulane University (2018)
Email Amira
Amira's LinkedIn Profile
Andrew Raymond
Bachelors, Chemical and Biomolecular Engineering, Tulane University (2018)
Email Andy
Andy's LinkedIn Profile
Nicholas Sehlinger
Bachelors, Chemical Engineering, Yale University (2017)
Email Nick
Nick's LinkedIn Profile
Tyler Staggs
Bachelors, Chemical and Biomolecular Engineering, Tulane University (2016)
Email Tyler
Tyler's LinkedIn Profile
Christian Villavicencio
Undergraduate Student
Tulane University (Class of 2021)
Email Christian
Christian's LinkedIn Profile
Alec Walker
Bachelors, Chemical and Biomolecular Engineering, Tulane University (2018)
Email Alec