---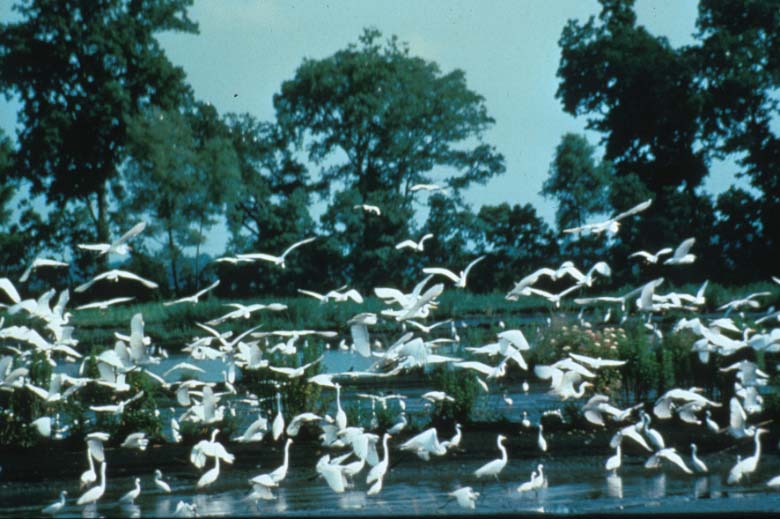 Dr. Bruce E. Fleury
---
Senior Professor of the Practice Emeritus

EEB Department Office: Boggs 400

Tulane University
6823 St. Charles Avenue
New Orleans Louisiana 70118
(504) 865-5191 (EEB dept. office)
Fax: (504) 862-8706


---
Diversity of Life - EBIO 1010/1015
Contains the lecture syllabus for diversity, and a taxonomy and term list to help prepare for exams.
---
Global Environmental Change - EBIO 1040
Includes a syllabus, readings, and environmental links for students in EEB 104.
---
Evolution in Human Health and Disease - EBIO 2010
Includes lecture syllabus, assigned readings, and links to lecture notes online.
---
History of Life - EBIO 2030
Includes lecture syllabus, and term list for exams.

---
Ornithology - EBIO 4200/7200
Includes laboratory and lecture syllabi, term lists, bird links, and lists of birds seen on field trips.
---
Tulane Science Scholars Program - The Best and Brightest
A link to the syllabi for the TSSP courses...

---
Class Playlists - Tune in

Links to the music played in all my classes


---
How to Flunk Out of College - Don't Do It!

A humorous guide to the many hazards of student life
---
The Human Population - Watch it Grow
Watch the world's population climb...Over 6 billion served...
---
The Louisiana Environment - Enviroweb
Learn about our local ecosystems and environmental problems.
---
Explore the
-

Mysteries of the Microscopic World
Coming soon to a university library near you.
---
Environmental Links - Surf the Green Wave...
Find useful links to internet resources for environmental biology.
---
Links to Organisms - Track 'em down !
Use your mouse to track the diverse organisms that creep, crawl, and fly through cyberspace.
---
The Crescent City - Everything's Hot Down in New Orleans...
This guide to the Big Easy includes local attractions, entertainment, restaurants, and local links.
---
How to Write A Decent Term Paper - See For Yourself...
The hidden secrets of the A paper can be yours, arcane library rituals revealed...
---
How to Survive Graduate School - You Can Do It !!
There is life after grad school - it's just not life as we know it!
---
Atomic Clock - Get to Class On Time...
Your mom would approve...
---
Picking Up the Pieces - Post Katrina Blues
We all have 'em - here's my take on the mess, courtesy of the Times Picayune...
---
Seeing A Parade from the Inside Out

What it's like to march down the Avenue...

---
Bringing Back the St. Charles Streetcar
Your mom would approve...
---
Surviving a Bad Case of Saints' Fever
How football can change your life...
---
Unmasking the Magic of A Carnival Den
Long may they roll..
---
Research
Louisiana has become the population center for many species of colonial wading birds. Yet there has been a conspicuous lack of research into wading bird population trends in our state, and to the quality of their foraging habitats. My dissertation established the importance of Louisiana's wetland and aquacultural habitats to the success of wading birds in the southeast. I compared the quality of natural wetland foraging habitats with that of several crawfish farms, and found strong evidence that the expansion of the crawfish industry was a primary factor explaining long-term increases in species that exploited this new aquacultural habitat.
The initial results of this research were published in the Auk and in Conservation Biology. I plan to focus next on seasonal changes in prey availability, and hope to examine the spatial and temporal patterns of food availability as part of the larger problem of how food limitation affects reproductive success.

---
Recent Publications
Dinosaurs: A Guide to Research, New York: Garland Press, 1992.
Dinosaurs, (Bibliographic Essay), Choice 26 (#4), December 1988, p.609-620.
Crisis in the Crawfish Ponds, Living Bird, Winter 1994, p.28-34.
Long-term population trends of colonial wading birds in the southern United States: the impact of crayfish aquaculture on Louisiana populations, with Thomas W. Sherry. Auk, 112:613-632, 1995.
Conservation of large, nomadic populations of White Ibises (Eudocimus albus) in the United States, with Peter Frederick, Keith Bildstein, and John Ogden. Conservation Biology 10:203-216, Feb. 1996.
Agricultural Wetlands and the Conservation of Colonial Wading Birds in Louisiana, with T. W. Sherry and Jay V. Huner, In: L. P. Rozas et al. (eds.), Recent Research in Coastal Louisiana, Proceedings of the 1998 LUMCON Conference on Natural Ecosystem Function and Response to Human Influences, Louisiana Sea Grant College Program, 1999.
---
---
Tulane Biology Department Home Page
---
This page was last updated on 9/7/10
---
© 2000 - The contents of this page and all other pages by the author
that are directly linked to this page, including all photographs, copyright 8/2000 by B. Fleury.
---