---
Everything's Hot Down in New Orleans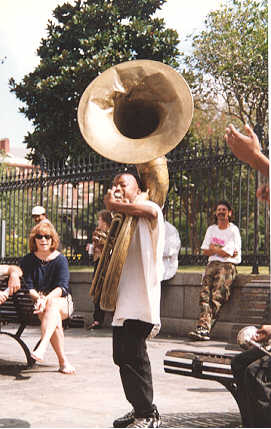 ---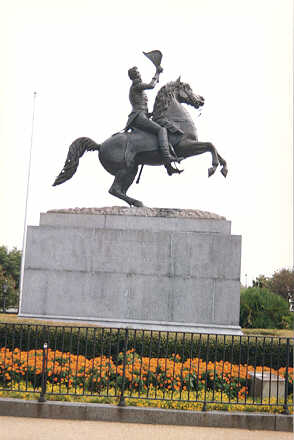 Hats Off
to our visitors!


Welcome and bienvenue to New Orleans, the City that Care Forgot.
The links below will help you to enjoy your time in the Crescent City.
In the words of N'Orleans "Piano Professor" Dr. John:
"Red beans, pinball machines
Chickory coffee and hoodoo queens
File gumbo and pralines
Everything's hot down in New Orleans!"
---
---
Warning: You might have such a good time in New Orleans that you'll pack your belongings and come back to live. To further the cause of love at first sight, the following information will smooth your stay In the Big Easy.
When Pierre Le Moyne first laid eyes on the future site of New Orleans, he must have been suffering from the heat. His settlement was surrounded by dismal swamps, subject to frequent floods, beset by hordes of stinging insects carrying exotic diseases, and simmered to perfection under the intense subtropical sun.
The city has not only outfought and outlived floods, fires, hurricanes and epidemics that would have sent saner settlers packing for Ohio, but has learned to have one heck of a good time doing it. There are many cheap and pleasant diversions to help you survive the steamy Southern afternoons. You can have a memorable time in New Orleans without having to pawn booty from convention exhibitors for your ticket home.
What better way to beat the heat in a city surrounded by water than to get near it, in it, or on it? Alas, Lake Pontchartrain and the Mississippi are not suitable for swimming, so be ready to enjoy the hotel pool. The Moonwalk, which runs along the River, is a great place to watch the many ships cruising through one of the world's largest ports. Climb the ramp across the street from Jackson Square, and go over the railroad tracks to the River. It's a good spot for a soothing evening breeze after cafe au lait and beignets (chicory coffee and chewy doughnuts drowned in powdered sugar) at the nearby Cafe du Monde. You can stroll all the way to the Aquarium to walk off the caloric load.
As you watch the lights of the big ships and little tugboats, you might catch a distant strain of jazz in the sultry night air, or hear the far off whistle of a tramp steamer bound for South America, and you may begin to see why the city captures so many hearts. To get the best breezes, catch the Canal Street Ferry at the end of Canal Street and take a free ride across the River and back. The quaint neighborhood of Algiers, hidden on the far side of the levee, is fun to explore. If you're feeling more ambitious, board the Natchez for a short cruise on a paddlewheel boat. You'll see the Chalmette Battlefield where Andrew Jackson beat the British in the Battle of New Orleans, and see the many huge freighters that dock below the city. Most of the bustling port's activity is hidden down river.
Tired of the Quarter? Take a trip uptown to the Audubon Zoo, one of the nations foremost zoological gardens. Under the spreading arms of mighty live oaks you'll find an amazing array of critters, in beautiful naturalistic settings, with plenty of shady benches to rest your weary feet. There is a free shuttle across the street from the front end of Tulane's uptown campus. Take the streetcar from downtown, get off at Audubon Park, and look for the shuttle bus stop at the park's arched entrance. The free shuttle runs about every 15-20 minutes. However you get there, don't miss one of the city's premiere attractions. Call the Zoo at 861-2537 for more information about the zoo or aquarium.
Meanwhile, in the City that Care Forgot, the afternoon's rays will be taking their toll of unwary joggers and sun struck golfers, while the city retreats indoors or under a shady magnolia tree. Most places in the city are air-conditioned (even some dog houses) and many will find the city's restaurants, bars, ice-cream parlors and shopping malls a welcome relief from the sweltering street. The streetcar creates its own breeze as it rattles down St. Charles Avenue, rolling under palms and oaks past stately homes and great mansions, with red and purple crepe myrtles coming into bloom. The round trip from Canal, at $1.25 cents each way (exact change only), is worthwhile, though the lower stretches of the route are a bit seedy. New Orleans is an outdoor architectural museum, and local bookstores stock a variety of self-guided streetcar tour booklets. Pop open the windows wide to catch the breeze. Between St. Charles and the River, on the central portion of the route, is the Garden District. The many architectural marvels here are best seen on foot.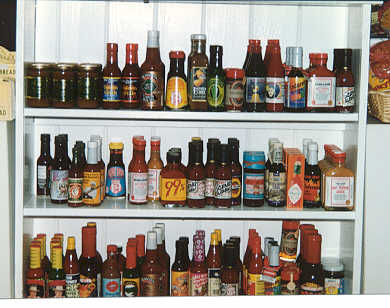 In addition to the diverse small shops and galleries that fill the French Quarter, you will find air-conditioned window shopping at Canal Place, Jax Brewery, and the Riverwalk. Sample the costly elegance of Canal Place, at the foot of Canal Street, where Sak's and Brooks Brothers tow a fleet of trendy boutiques in their wake. Or hop over to the Riverwalk, near the Convention Center, and watch the boats from the balcony or listen to the fudge crew sing fudge work songs while they manufacture an expensive bit of heaven. You can find the fast food of your choice in the uppermost level. Be sure to check out the colorful fountain in nearby Spanish Plaza. If you're near Jackson Square, stop in at Jax Brewery. You'll find a good sampling of local cuisine in stands on the third floor and clean restrooms on the top floor.
Tune your radio dial to WWOZ (90.7 FM) for local R&B and folk music, or try WWNO (89.9 FM) for a pleasant mixture of classical and jazz. Dixieland, rhythm and blues, modern jazz, Cajun or zydeco, are all playing somewhere. You should seek out copies of Off Beat, a monthly music magazine, and the Gambit, a weekly alternative paper, both of which have thorough entertainment schedules. Many hotels and local businesses keep stacks of current issues at the ready. The Lagniappe section, a weekly feature in the Friday Times-Picayune, also has a good listing of local night clubs, as well as a directory of local attractions and special events.
Canal Street has survived the mall invasion, and offers a solid selection of the usual shops mixed with a few surprises. If antiques excite you, spend a few hours cruising the many antique shops on Magazine Street. Bibliophiles should seek out the second hand book stores on Royal Street (in the Quarter), the Fauborg-Marigny Bookstore at (600 Frenchmen), the French bookstore La Librarie D'Arcadie (714 Orleans, behind the Cathedral), or (if you are uptown in the vicinity of Tulane University) the Maple Street Book Shop (7529 Maple St). Octavia Books, at the corner of Octavia and Laurel Street (513 Octavia), is a bit farther from the beaten path, but worth a visit for its great selection of local and regional books.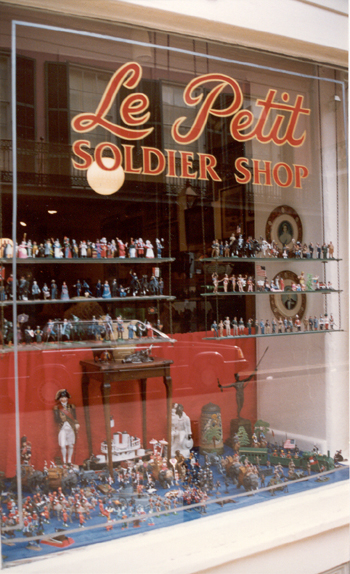 Between the questionable water and the summer heat, people in New Orleans consume large quantities of alcohol. You can quench your thirst at the Napoleon House (500 Chartres), and relax to the strains of classical music. Napoleon never quite made it to the rooms prepared for him upstairs, but his loss is your gain. Try the Muffaletta, a delicious Italian sandwich that's a meal for two. Wash it down with a frothy glass of Dixie Beer or Abita Beer, surprisingly flavorful local brews, with amusing pretension. You can carry open plastic cups of alcohol on the street (called go-cups), though the practice is mainly confined to Bourbon Street. Bourbon Street after dark lives up to its sleazy reputation. Grab a cheap draft and take in the endless parade of people. The strip starts to cook around 9 P.M., and goes until the wee hours. Preservation Hall, on St. Peter near Bourbon (admission $2). is a sweltering experience in the summertime. The room is small, filled literally wall-to-wall, and has no air-conditioning. The fact that people are still lined up to hear the music tells you how great it really is.
Want to see how people coped before air-conditioning? Visit the Gallier House at 1132 Royal (525-5661). Other museum houses to enjoy in the Quarter are the 1850 House (on Jackson Square (568-6968). the Beauregard-Keyes House (1113 Chartres. 523-7257). and the Hermann-Grima Historic House (820 St. Louis St., 525-5661). The Historic New Orleans Collection at 533 Royal (598-7100, no charge for the front gallery) and the Presbytere and Cabildo Museums in Jackson Square will all let you escape into the cool recesses of the city's past. Admission to the Presbytere, Cabildo, 1850 House and U.S. Mint Museums is $5 each, or get a 20% discount on each museum if you buy tickets for two or more (568-6968). Go a little farther afield, and take the streetcar to Lee Circle (the big statue in the middle of a traffic loop), and relive World War II at the excellent D-Day Museum at 945 Magazine, a block or so off Lee Circle (528-1944).
The afternoon shade of the French Market is always inviting. Weekends draw a huge throng for the flea market but weekdays are usually peaceful. Go down Decatur from Jackson Square on your way to the Market and drink in the sights and sounds of the Central Grocery (923 Decatur), a heady experience that will entrance any would-be gourmets. Muffalettas at the Central Grocery rival those of the Napoleon House. The large brick building you can see off the far end of the Market is the old U.S. Mint, now serving as home for the Jazz Museum. You can see Louis Armstrong's first horn, and learn about the city's musical traditions (568-6968).

---
New Orleans has a language all its own, sounding more like Brooklyn than the deep south. The native working class peppers its speech with 'dis, 'dat, and 'dose. Most colorful are natives of the Ninth Ward (Da Nint' Waad). This glossary and a Dixie longneck will help you fit right in (plastic softball cap and tacky tee-shirts are optional).
N'Awlins = Where you are. Never New OrLEENS (trés gauche), though N'ORlins, New ORleunz, and New ORlins are acceptable.
Where Y'at? = Where are you at? i.e., how are you, how's it going etc. Universal question that pervades all local social life and commerce. Natives are often called "yats".
F'Suah = For sure, universal reply.
Yeah, you rite = All purpose reply #2, applies to any situation.
Burled = Boiled. Also "erl" for oil , surl for soil, etc., BUT girl is goil , and turkey is toikey. Go figure!
Choich = Where one goes to pray
Woik = What folks in Louisiana often pray for.
Axe = Not a sharp object, but a question (ask). Local teachers and librarians are always getting "axed" in the line of duty.
Lagniappe = A little something extra, an old custom among local merchants you may still encounter (pronounced lan-yap).
Swimps = No, not the long lost member of the Three Stooges, but a tasty little crustacean (shrimps).
Neutral Ground = Median strip, often amounts to a small park in and of itself. Stems from the use of the large median strip to separate local Creole and French Society from those upstart Americans across the road.
Banquette = Sidewalk
Make Groceries = Shop for food
Hickey = A bump on the head

Who Dat = Who is that? As in "Who dat say they gonna beat dos Saints?"

Flyin' Horses = A Merry-go-round, like the famous Carousel in City Park (try it, you'll like it!).
Mynez = Mayonaisse
Oah What? = Or What? New Orleans equivalent of the French Canadian "eh?"or French "n"est-ce pas?", as in "D"ya want fries wit dat, oah what?"
Are you in the groove? Translate the following: "D' ya want 'dat swimp sammich dressed, oah what? Yea, you rite, but no mynez (Translation: "Would you like your shrimp sandwich with lettuce, tomato, and mayo? Yes, but hold the mayo.") Now you understand why the critically acclaimed T.V. show "Frank's Place" felt it necessary to subtitle the "english" dialogue of its one N'Orlins native cast member! (Frank's Place is often shown on BETS cable, and is highly recommended for its uncanny insights into our local culture.)

---
For Safety's Sake - Where Not to Go, and When Not to Go There
New Orleans is a big city, so the usual urban caution is advised. A few simple precautions are: don't wear your badge outside the hotel or convention site. Why advertise that you don't know your way around? Avoid the warehouse district adjacent to the Convention Center after dark. Bourbon Street is safe (albeit a bit crazed) after dark, but be extremely careful elsewhere in the Quarter at night. Ignore the groups of "gutter punks", they live to torment travelers, and can get rather surly. Jackson Square, and the Cafe du Monde are generally well populated until fairly late at night. Avoid the riverfront after dark unless you are with a group. DO NOT try to see the famous cemeteries unless on a guided tour (the National Park Service tour is recommended). They are very unsafe at all hours. Avoid Armstrong Park unless with a group, and stay out of the park after dark. As Dr. John sings, "you don't know whats cookin', and da oven's in da dark!" The end of Canal Street nearest the River is the safest part of main street after dark, but very late travelers should always exercise caution on or near Canal Street.
Emergency Phone Numbers
911 - Who knows, they just might answer!
821-2222 - Police (non-emergency)
822-1111 - Crime Stoppers (Use the reward for your next vacation...)
565-7450 - Auto Pound (Don't be surprised if you get a busy signal during Mardi Gras!)
525-8726 - Traveler's Aid (Let's hope you won't need it, but it's nice to know it's there.)

---
Local Transportation - You Can Get There From Here

RTA City Bus Rideline - 827-7802 (fares are $1.25)
Airport Shuttle Info - 522-3500
Greyhound Bus - 800-229-9424, (504) 525-6075
Amtrak - 800-872-7245, 504-299-1880
American Airlines - 800-433-7300
Continental - 800-523-3273
Delta - 800-221-1212
Southwest - 800-435-9792
Jet Blue - 800-538-2583
United - 800-864-8331
US Air - 800-428-4322

For the most current travel info, go to the neworleansonline.com travel page

---
Rockin', Rollin' and All That Jazz - The Big Beat in the Big Easy

For CD's by local artists, your best bet is Decatur Street. Check out The Louisiana Music Factory, at 210 Decatur, which carries a decent selection of local artists (across the street from the House of Blues, just a few blocks from Jackson Square in the French Quarter). Also near Jackson Square is Peaches Records (408 N. Peters), a local independent that's a good for NOLA music. Jim Russell's Rare Records requires a cab ride to 1837 Magazine Street, but offers one of the best selection of rare vinyl on the planet.
Local Radio Stations of Note: WWOZ (90.7 FM) for local R&B and folk music, or try WWNO (89.9 FM) for a nice mixture of jazz and classical. Dixieland, rhythm and blues, modern jazz, Cajun or zydeco, are all playing somewhere.
Off Beat, a monthly music magazine, and the Gambit, a weekly alternative paper, have complete local entertainment schedules. They are available for free at numerous locations throughout the city. The Lagniappe section, a weekly feature in the Friday Times-Picayune, also has a good listing of local night clubs.
There are many places to go for good local tunes, but the clubs below are particularly noteworthy:
House of Blues - Rockin' at 225 Decatur Street, the House of Blues has become a local fixture. (529-BLUE for 24 hour info).
Tipitina's - The mother lode for local music, 'Tips (895-TIPS) is located at 501 Napoleon Avenue, at the corner of Napoleon and Tchopitoulas, near the River.
Snug Harbor - A great place to go for jazz of every flavor, located near the French Quarter at 626 Frenchman Street, 949-0696.
Rock 'N' Bowl - For a funky night out, this aging bowling alley can't be beat. Featuring local groups, the lanes are open at 3000 S. Carrollton Ave. (uptown near the I-10 overpass), call 861-1700 for more info.
The Howlin' Wolf - The name says it all, rythym and blues at 907 S. Peters, call 522-9653 for concert info.
Hard Rock Café - Easy to find in Jax Brewery near Jackson Square, 418 N. Peters, not exactly a local hot spot, but in demand for tourists of all ages (529-5617).
Louisiana Philharmonic Orchestra - The real deal, call 523-6530 for concert schedules.
Preservation Hall - Some of these guys were around when Dixieland Jazz was invented. Very small, very crowded, and very cool. Located in the French Quarter at 726 S. Peters Street, 522-2841, the show starts every night at 8 PM.
Maple Leaf Bar - An eclectic music venue, very hip and very local, located at 8316 Oak Street, call 866-9359 for music info.

---
Local Eats and Local Treats - A Capsule Guide to Big Easy Specialties
Genteel citizens in the French Quarter used to linger over their evening meal until nearly time to retire. And it wasn't just because they lacked cable TV. The Gulf supplied them with an abundant harvest of seafood, the rich bottomland around the Mississippi yielded wagon loads of fresh fruit and vegetables, and the endless swamps and forests provided a bounty of local game. Included in the typical backwoods menu of rabbit, venison, and duck, were such local delicacies as crawfish and alligator.
These fresh ingredients were combined with French, Spanish, and Caribbean cooking traditions. From the French and Spanish settlers came Creole dishes, spicy gumbos that could revive the dead, and sumptuous rich sauces that could clog an artery from across a crowded room. From out of the swamps and bayous came Cajun fare, country cooking enhanced with hot Creole spices.
Many visitors are surprised to find out that genuine Cajun restaurants are scarce in the city. Cajun cooking, before tourists discovered it, was considered lowly country fare, prepared by poor folk eating whatever they could catch (road kill will do in a pinch!). The more upscale Creole cuisine has long been the dominant choice within the city gates.
Some local specialties deserve a word or two of additional explanation. Basic Big Easy dishes include gumbo, jambalaya, red beans and rice, crawfish, oysters, and po-boys.
There are as many ways to prepare gumbo and jambalaya as there are crawfish in the Atchafalaya Basin. Gumbo is a thick and very spicy stew (or a soup with attitude), usually served over rice. Seafood gumbo and chicken gumbo (which usually contains tasty andouille sausage) are the basic varieties. Jambalaya is Spanish rice with Creole ingredients. I've eaten chicken and sausage jambalaya, shrimp jambalaya, turkey jambalaya, quail and andouille jambalaya (my favorite dish at Jazz Fest), and even alligator jambalaya (and no, it did NOT taste like chicken).
Red beans and rice is the traditional Monday dish in New Orleans. Monday was laundry day. To tide the family over while the maid cleaned the clothes, a rich pot of red beans was prepared on Sunday, simmered all day, and served on Monday. It is still a Monday "daily special" throughout the city. Red beans are cooked in a ham and andouille gravy, served over rice, and usually offered with an optional extra chunk of andouille sausage. Red beans and jambalaya are good choices for the faint of heart who still want to "go local."
Seafood and sausage, under many guises, are both local specialties. Called crayfish nearly everywhere outside Louisiana, the lowly crawfish, crawdad, or mudbug is a close relative of the shrimp. Thanks to a booming aquaculture industry, they're relatively cheap and plentiful. Crawfish are usually boiled alive and eaten right out of the shell. There are more ways to eat crawfish than there are legs on the little crustaceans. You can order boiled crawfish, crawfish etoufee, crawfish bisque, soft-shelled crawfish, crawfish jambalaya, and even (gasp) crawfish pizza! Crawfish are bland and tasteless, but they're boiled in water richly seasoned with local spices. You can even "suck' da heads and squeeze' da tails," as the locals do.
The po-boy is a local soul-food version of the Yankee sub or hoagie sandwich. Po-boys used to be made mainly with rich gravy, flavored with a minimum of meat, and wrapped in a small loaf of french bread (hence "poor-boys"). The modern version is a compromise, with more meat and less gravy. When you order a sandwich in New Orleans, you will probably be asked "D'ya want 'dat dressed?" You're not being asked to participate in some bizzare gastronomic fashion ritual. Nor is the cook obsessed with accessorizing. You're being asked if you want lettuce, tomato, and mayo.
The Crescent City also has several dessert specialties that will enhance your self- esteem by giving you much more self to feel esteemed about. High on the list of local favorites is bread pudding, usually heavily laced with rum or whiskey. Bananas Foster, invented at Brennan's, also graces many local menus.
Pralines are made from brown sugar and pecans, and are about the size and shape of chocolate chip cookies (and just as dangerously addictive). Evan's and other French Quarter confectioners will even mail pralines to friends and family (or back to your front door for a post-conference treat). Making them at home should be a breeze, given the simple ingredients, but it never quite seems to work for me. You need a large, cool marble slab for best results. Pralines were brought over from France by the Ursuline nuns, and were once sold on the street from straw baskets carried by wandering "pralinieres."
Beignets are fat little fried dough balls, smothered in powdered sugar (don't sneeze!). The best place to sample them is the Cafe du Monde, across from Jackson Square. You can also get coffee here, but you might want to try the cafe au lait, a local blend of coffee and chicory (an acquired taste, like fine wine).
And don't forget the lowly snoball! Snoballs and summer are an essential combination in the Big Easy. The difference between a snocone and a snoball is the difference between gravel and velvet. The Yankee "snocone" is a squirt of syrup over a cup of barely crushed ice cubes. A genuine Big Easy "snoball" is always made with shaved ice, which has a creamy consistency, and smothered in way too much delicious syrup. Don't wear an Armani shirt to eat one. Every local has their own favorite snoball stand, but top of most lists are the Plum Street Snowball Stand, 1300 Burdette (Tulane area), and Hansen's Sno-Blitz, 4801 Tchoupitoulas St. Snoball stands are a seasonal affair, so unless it's late spring or summer, call before heading out. Angelo Brocato's Italian Ices, on South Carrolton, is also worth a visit if you find yourself uptown. Their delicious Italian ices, Italian cookies, and canolies are a special treat. The Haagen Dasz at Riverwalk and the Baskin Robbins at the Riverbend provides a cheaper thrill.

---
Croissants in the Crescent City - A New Orleans Restaurant Guide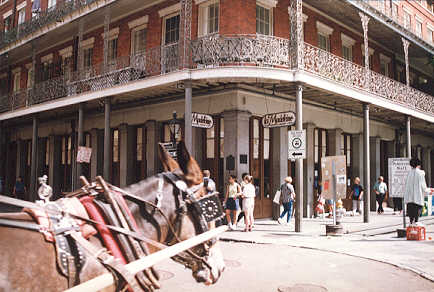 You've been in meetings all morning, developing a severe case of "crazy legs". That morning bagel is just a memory. Your tummy is starting to speak in tongues, and everyone at the next meeting will be looking around to see where that strange grumbling sound is coming from. It's definitely time to eat. Fortunately, you're in New Orleans, a gourmet mecca whose unique cuisine is famous throughout the world. But you don't have the time to sit down to a lush spread of delectable food and wine. And even if you did, how would you explain that fifty dollar lunch on your expense account? There goes that new wing on the science building! Don't despair, your tummy and your wallet can both be satisfied. Life in the "Big Easy" just got a whole lot easier.
Convention dining comes down to a compromise between the clock and your wallet. If you're riding that vendor gravy train, or this is your one big splurge and the sky's the limit, by all means indulge yourself with breakfast at Brennans or dinner at Commander's Palace. Just be prepared to cash in your return trip ticket for that long walk home. With an hour or two to kill, and money that mostly clinks rather than rustles, the options seem more limited. Should you just give up and grab a cheeseburger in the hotel or the convention center? Notaries are standing by to finalize your second mortgage. Should you partake of a tube steak from the local "roach coach", the ubiquitous Lucky Dog vendors? Well, that depends on just how lucky you feel.
Fear not, reasonable food for a reasonable price is available at the Riverwalk Mall, adjacent to the Convention Center. Take the escalators outside the entrance to the Center to the upper level of the mall. The Riverwalk is divided into three levels, dropping gradually down to the scenic Spanish Plaza on the waterfront. It is fully accessible by wheelchair, though the elevators are sometimes tricky to locate. The mall is an experience in itself, with a variety of souvenir stands mixed with "yupscale" stores.
The upper level, nearest the Convention Center, boasts a food court called Bon Fête on the River, with a nice mix of fast foods and a downsized versions of Messina's, a good local restaurant. Grab a tray and find a table. Farther down the mall are two decent seafood restaurants for a more leisurely (and more expensive) dining experience.
The mall is also a great place to indulge your sweet tooth and grab some souvenirs. You can also load up on cookbooks and local spices to send Aunt Hattie's ulcer into orbit when you return home. The food court is open when the mall is open, from 10:00 AM 'till 7 PM, Monday through Saturday, and 12:00 AM 'till 6:00 PM on Sunday, though hours may vary from counter to counter.
Parts of the mall are still recovering (at least psychologically) from the damage caused a few years back by an errant freighter. Pieces of the mall fell into the river, along with portions of the adjacent Hilton Hotel. You can gaze at the spectacle in a special "shrine" near the stairwell in the lower level of the Mall. But don't let the threat of imminent doom spoil your appetite. A sophisticated new alarm system is poised to alert you to misguided vessels. If a freighter with dubious Liberian registry should get creative in mid-river, the alarm will alert you to grab your sandwich and run for your life. Meanwhile, enjoy the spectacular river view...
$$$$ The number of $ show approximate minimum cost per person in $5 increments, though most places have less expensive items available. Upscale eateries often have a mid-range lunch menu, with the same great chefs and the same great dishes. Prices are for soup/sandwiches or entrees, and do not include appetizers, beverages, or deserts. And, of course, prices vary from season to season, and can change without notice. All major credit cards (MasterCard/Visa/AMEX) are accepted unless otherwise noted. Because eateries in the Big Easy come and go with astounding regularity, always call before setting out.

The dining scene in the Big Easy is fluid, to say the least. A great up to date site to check is Gambit's Restaurant Guide.

---
Convention Center vicinity and Canal Street
There are a few good places to dine in the immediate neighborhood around the Convention Center, known locally as the Warehouse District, but do not stroll about at night unless you are in a large group. This area, formerly old warehouses serving the city's port, was gentrified during the 1984 New Orleans World's Fair. The completion of the Convention Center spurred further development in the area, which includes many new restaurants, apartments, and convention services. It is fairly safe to wander about during the day, but it's always a good idea to remove your badges when you leave the convention hall or hotel for any reason. Why advertise that you are a stranger alone in a big city?
While you are on Canal Street, be sure to visit the Aquarium of the Americas, and perhaps check out the current film at their IMAX theater. And please take time for a moment of silent contemplation as you gaze at the gaudy Harrah's riverfront casino, an imposing monument to urban greed and bad planning. Don't bet the farm if you try to draw to an inside straight...To paraphrase a popular local expression, "It ain't the heat, it's the stupidity."
$$ Ernst's Café - 600 St. Peter, two blocks from the Convention center (525-8544). Service is slow, but the Creole dishes and seafood are reasonably priced and above average in quality.
$$$$ Emeril's - 800 Tchoupitoulas Si., 528-9393. In this neighborhood, high price is no indication of quality, but Chef Lagasse earns every penny, with a solid modern menu and a marvelous dessert lineup for "afters." BAM!!
$$$$ Mulate's - 201 Julia St., across the street from the Convention Center (522-1492). A spin-off of the famous Cajun restaurant in nearby Breaux Bridge La., Mulate's is very spicy and a bit pricy, but darned convenient. Slow service, an ambitious menu, and excess spices make this Cajun eatery less than overwhelming. But the funky bayou atmosphere and the Cajun music can take your mind off the adequate food. Try Michaul's (see above) for a somewhat better cajun meal value. Evenings feature live Cajun music and dancing. Open every day from 11:00 AM 'till 11:00 PM.
$$$$$ Grill Room - Windsor-Court Hotel, 300 Gravier St., 523-6000. This is truly a European dining experience, with tasteful old-world decor and a most extraordinary kitchen. Various lists have placed it, with good reason, among the world's foremost eating establishments. The price is commensurate with the reputation. Try to avoid getting a table overlooking the loading dock and dumpsters out back.
$$$ The Praline Connection - 542 Frenchmen St. (943-3934). The ghastly name makes it sound like a sweet shop, but don't be fooled. You'll find great soul food here at reasonable prices.The very funky atmosphere is best described as Louisiana outback meets Disney electric light parade. The delicious food earned a rare "4 Beans" from the local paper, and is one of the few accessible restaurants with genuine local soul food. Live jazz or soul music is featured most evenings. Reservations are suggested for dinner.
$$$ The Palace Café - 605 Canal St. (523-1661). One of the city's finer restaurants, the Palace is a bright light in an otherwise dismal main street dining scene. An attractive casual atmosphere combined with an award-winning kitchen assures an excellent meal. The Brennan family also operate Commander's Palace, Mr. B's Bistro, Brennan's, and Baco's, all among the very best restaurants in a city known for its great dining. Try the "Pain Perdu," old-style Big Easy french toast with a yummy twist. Reservations are suggested for dinner.
$$ Mother's - 401 Poydras St., across from the Crowne Plaza Hotel. Justly famous for its delicious po-boys, Mother's serves a wide variety of local dishes. It is also extremely crowded during peak lunch hours, so be prepared to wait. In addition to the ever- popular po-boy (some say the roast beef is the wisest choice), Mother's serves a fine breakfast (and closes after lunch). Breakfast served anytime. Open 7:00 AM to 10:00 PM, Monday to Sunday (523-9656).
$$ The Bon Ton Café - 401 Magazine St. (524-3386). Specializing in cajun cooking with a steak/seafood emphasis, the Bon Ton is very popular with local corporate types and can be crowded at lunchtime. Business casual, dinner reservations are a must.

---
St. Charles Avenue
The streetcar will carry you uptown for a dollar each way, but even though it runs about every 10 minutes during peak hours (ask your driver if traveling late), the ride is leisurely, and you will need a few hours free time to sample most of the following restaurants.
$$ The Pearl Oyster Bar - 119 St. Charles near Canal St. (525-2901). Dishing out "ersters" for over 50 years, the Pearl also serves cajun/creole food, soups, salads, and sandwiches, and breakfast anytime. Open 10:00 AM 'till 9:00 PM seven days a week.
$$ Back to the Garden - 833 Howard Ave. (299-8792). Hard-core herbivores can seek out this hole-in the-wall vegetarian cafe tucked away in the back of the ground floor of the YMCA at Lee Circle. Vegan is a real novelty in a city where fried grease is a way of life...Check out the Contemporary Arts Center nearby. Cash and traveler's checks only.
$$$ Cannon's - 4141 St. Charles Ave. (891-3200). A good selection of seafood, pasta, salads, fancy burgers and grille fare in a comfy atmosphere. Great for large groups (25 to 100+)
$$$ Brigsten's - 723 Dante St. (near Riverbend),861-7610. Paul Prudhomme's star pupil is Chef Brigsten, now graduated to his own establishment. Many locals feel Brigsten's cooking is superior. (When you can snatch the croissant from my hand, grasshopper...)
$$ Camellia Grill - 626 S. Carrolton Ave., 309-2679. Why are all those people standing in line out in the street at odd hours? Get in line and find out. As grills go, this has long been one of the local favorites, with busy, friendly waiters, an old-fashioned counter, super breakfast items, and great burgers.
$$ La Madeleine - Corner of St. Charles and Carrolton, 861-8662. A great place for croissants and coffee or a fine dessert. Soups, sandwiches, pastries to die for....Located where the streetcar turns onto Carrolton, at the Riverbend Plaza, just across the street from the Camelia Grill.

$$ Louisiana Pizza Kitchen - Corner of St. Charles and Carrolton. 866-5900. Clean, friendly, good pizza (albeit with exotic options), and right next to the streetcar, near La Madeleine.

---
Neighborhood Restaurants
Like any big city, New Orleans has friendly little out-of-the-way places where locals go to get away from the tourists. Some of these restaurants are traditional, while others are rank newcomers. While the food may be no better (or worse) than the chow in the Quarter, you can enjoy a down-home ambiance and friendly service often lacking in the more expensive restaurants, and do some prime people-watching in the process. Most require a cab ride, unless otherwise noted.
$$ Domilese's - 5240 Annunciation St., 899-9126. You might drive by this typically N' Awlins lunch spot half a dozen times before you notice it. Once inside, enjoy the eccentric decor, and don't leave without filling up on the scrumptious po-boys. Many locals swear that these are the best po-boys in town. Bring a bib!
$$ Katie's - 3701 Ibervil1e, 488-6582. Katie's is relaxed and friendly, clean and comfy. One local Mardi Gras crew (Phunny Phorty Phellows) holds its annual coronation ceremony here, because they're on a limited budget, just like you, but they like to enjoy a good meal.
$$$ Upperline - 1413 Upperline Street, 891-9822. Upperline is a bit upper crust, but if fine dining and wining is your thing, it's certainly worth a trip.
$$ Mandina's - 3800 Canal, 482-9179. The noise level here is exceeded only by the size of the portions. The Italian/American cuisine may not be haute, but it's always hot, and always plentiful. If you want to immerse yourself in mounds of inexpensive seafood or spaghetti, this is the place for you (cash only). Easily reached by taking the Canal Street bus (ask the driver for return-trip times).
$$ Pascal's Manale - 1838 Napoleon Avenue, 895-4877. A New Orleans fixture since 1913. Need we say more?

---
Out and About
Some places are just worth a special trip. Take a taxi to reach these spots with out-of-sight menus. If price is no object, Commander's Palace is especially recommended for the best Creole cooking in town (and perhaps on Planet Earth!).
$$$ Dooky Chase - 2301 Orleans Ave., 821-0535. Good Creole soul food makes this a very popular local eatery. The neighborhood can be a bit dicey so take a cab!
$$$$ Ruth's Chris Steak House -525 Fulton St., 587-7099. This chain gives new meaning to the word steak. These USDA #1, prime-choice, corn-fed, well-bred cows were probably rocked to sleep at night to keep them happy. Many of the most lucrative business deals in the city are hatched over a thick steak from Ruth's kitchen. Vegetarians will never sleep again.

---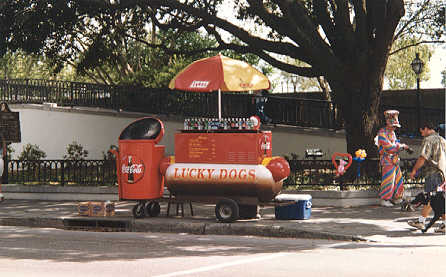 The French Quarter
The new streetcar line links the Convention Center with the French Quarter. The distinctive red cars, known as the "Painted Ladies", will whisk you right to Jackson Square. Allow at least a half-hour to 45 minutes round-trip travel time from the Center to the following eateries. They are worth the journey. There are literally dozens of restaurants in the Quarter, though many are mere tourist traps. Upscale French Quarter restaurants can be found on the web pages above and in the standard guide books. The following are especially recommended for good food at a reasonable price.
$ Johnny's Po-Boys - 511 St. Louis (524-8129). Tucked away just around the corner of Decatur Street, Johnny's is as local as you can get. Famous among locals for its yummy and generous po-boys, Johnny's can get very busy during lunch. It's worth the wait.
$$ Gumbo Shop - 630 St. Peter St., just off Jackson Square (525-1486). This is my all-time favorite French Quarter restaurant. The creole cuisine is always tasty, the flaky fresh bread is a treat, and the check is surprisingly reasonable. Long lines often form as a result, so aim for early or late lunch or dinner, or be prepared to wait. A small courtyard offers patio dining in fair weather. The food tastes great, and all the local specialties are available. Try the chicken/andouille gumbo. Makes me hungry just thinking about it!
$ Central Grocery (923 Decatur). Step into another culinary world in this colorful and aromatic establishment. The muffalettas (huge Italian sandwiches) are truly marvelous.
$$ Old Coffee Pot - 714 St. Peter St., 524-3500. Locals fondly remember the really Old Coffee Pot, with an ancient floor that would have made a great miniature golf course, rickety furniture, and enough atmosphere for a feature film. The remodeled version is still quaint and friendly, a nice mixture of old and new on the walls and on the menu. The Plantation breakfast is my perrenial favorite. Be sure to sample the calas, an old Creole treat.
$$$ Patout's - 720 St. Louis St. (525-7788). Alex Patout's Cajun kitchen may well prepare the best and most authentic Cajun food available within the city limits.
$ Felix's Oyster Bar - 739 Iberville, 522-4440, and Acme Oyster House - 724 Iberville St., 522-5973. If slurping down raw invertebrates is your thing, come on in! Both establishments are local institutions, and both serve much the same menu.
$$ Maspero's - 440 Chartres St., 524-8990. Historic atmosphere, but also serves good sandwiches at competitive prices.

The higher-priced French Quarter spread:
$$$$ Antoine's - 713 St. Louis, 581-4422. An internationally famous eatery that doesn't always rise to the occasion. You may get lucky and find a flash of former glory. Try the lunch menu here, enjoy the rich atmosphere, and don't miss the Mardi Gras display.
$$$$ Arnaud's - 813 BienviIle, 523-5433. My personal favorite for a memorable meal. This classic restaurant has made a spectacular comeback in recent years. An excellent dinner in a sumptuous setting. Finish up with an order of cafe brulot.
$$$$ Louis XVI - 730 Bienville, 581-7000. The classic French menu provides first-rate gourmet dining for those with a taste for continental fare.
$$$ Bayona - 430 Dauphine St., 525-4455. Chef Susan Spicer's Mediterranean cuisine is remarkable, and she has earned her a devoted local following. Reservations are a must at this small gourmet bistro. (Spicer was named Best Chef in the Southeast at the annual James Beard Awards a few years back.)
$$$ Tujague's - 823 Decatur Street, 525-8676. Serving New Orleans cuisine since 1856. This interesting eatery features a single selection each night, so call first to see what's on the menu de jour.
$$$ Rib Room - Royal Orleans Hotel, 621 St. Louis, 529-7045. If you can't look at a cow without seeing tasty prime ribs, this is definitely the place for you. A carnivore's delight!
$$$ Mr. B's - 201 Royal St., 523-2078. The ubiquitous Brennan family scores again with a classic Creole/American menu and a cozy atmosphere. A local favorite for great dining.
$$$$ Brennan's - 417 Royal St., 525-9711. Breakfast at Brennan's is an international institution, and for a damned good reason! Do yourself a big favor, set aside a morning for a breakfast from the gods. Be prepared for a long wait especially on the weekends (even with reservations). The wait is well worth it, and the beautiful courtyard and a few rounds of drinks will soon make you forget what it was you were waiting for. Never again will you spend this much money on breakfast, but it will be an experience you'll never forget. Bananas Foster are a must for dessert, from the kitchen that invented them. And don't forget the breakfast champagne!
$$$ K-Paul's - 416 Chartres St., 596-2530. Frankly folks, this famous establishment is more than a little over rated. It once deserved its current fame, before interminable lines, endless silly dining rules, and the absence of its globe-trotting chef from the daily grill, lowered its standing. Seating is barracks style, so be prepared to rub elbows with Shriners, osteopaths, or whatever other conventioneers are in town. Brigsten's (see St. Charles streetcar line eateries) is a much better food value, and equally authentic.
$$$$ Galatoires - 209 Bourbon St., 525-2021. Everyone waits in line here, even royalty. Inside are marble, mirrors, service with an old world flair, and some of the best cooking you will find anywhere on Earth. Sunday brunch here is an old local tradition. No reservations, but credit cards are accepted (if reluctantly....).

---
The Great Outdoors - Walk on the Wild Side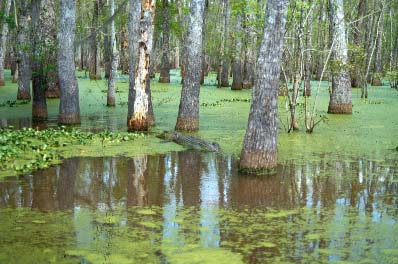 If the sidewalks begin to bake your feet, there are some nice green places to get away from it all. City Park, near Lake Pontchartrain, is mainly golf courses, but picnickers will find many shady oases to spread a blanket. Also in City Park is the New Orleans Museum of Art ($10.00, 658-4100), a small collection accompanied by traveling exhibits. Audubon Park (near Tulane) has a few corners for strollers and snoozers, and joggers will find the city's most popular torture trail on the circular path that skirts the golf course. Joggers new to the sub-tropics should limit their activity to the early morning or late afternoon, or risk sunstroke and heat exhaustion. In April, watch for the nesting colony of Black-crowned Night Herons, which fill the treetops of a small island about halfway down the path (on the left side as you face the front of the park). Cross the River and a half-hour's drive takes you to Jean Lafitte National Park, where visitors may see alligators, nutria, and beautiful birds in a sizable slice of wild Louisiana. Don't worry too much about the snakes and gators though. The paths are mostly well paved. Much more worrisome are the deer flies and our unofficial state bird, the mosquito.

---
There are many excellent places to enjoy wildlife near downtown New Orleans. The following guides are particularly useful:
Birding in the New Orleans Area - Peter Yaukey's guide for seeking out wild places in or near downtown New Orleans.
Southeastern Louisiana Bird Guide - Covers hot spots in and around the metropolitan area.
Southwestern Louisiana Bird Guide - An excellent guide for those willing to explore farther beyond the city limits.
Ornithology at Tulane - My ornithology home page provides lots of birding links, and bird lists from local hotspots.
There are many local swamp tours, but the Honey Island Swamp Tour is the best of the bunch. The well trained guides will take you to one of the most beautiful swamps in the New Orleans area. Call 985-641-1769 for information and reservations and for pickup from downtown hotels. Cash only!!
---
Local Parks and Wildlife Refuges
GORP - Louisiana National Wildlife Refuges
Louisiana's National Wildlife Refuges
Gulf Islands National Seashore
Mississippi Gulf Coast Beaches
Mississippi Sandhill Crane National Wildlife Refuge
Nature Conservancy in Louisiana
---
Louisiana Environment
Tulane Green Club
Enviroweb - The Louisiana Environment
USGS Fact Sheet: Lake Pontchartrain, Louisiana
USGS Fact Sheet: Louisiana Coastal Wetlands
USGS Fact Sheet: Louisiana Barrier Islands
---
Local Hotspots for Birding
Southwestern Louisiana Bird Guide
Southeastern Louisiana Bird Guide
Common Birds of Louisiana 1
Orleans Audubon Society (New Orleans)
Sabine NWR
Cameron Prairie NWR
Louisiana Ornithological Society
Checklist of Louisiana Birds

---
Links to Local Sights and Sounds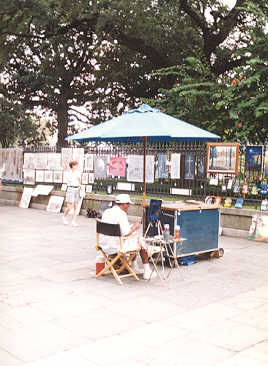 General Info and Local Web Pages
New Orleans.com
New Orleans Convention Bureau Tourist Information
New Orleans and All That Jazz
New Orleans Online
The Gumbo Pages

Newspapers
Gambit Weekly
The Times-Picayune
Weather for New Orleans and Louisiana
Interactive Weather Information Network
NWS - New Orleans/Baton Rouge Forecast Office
The Weather Channel

---
Fun for the Family
Audubon Zoo, Aquarium, and Insectarium
Mississippi Gulf Coast
Gray Line Tours
New Orleans Steamboat Company

---
Art, Music,and Local Culture
New Orleans Museum of Art
House of Blues
Tipitina's
Snug Harbor
Louisiana Philharmonic Orchestra

---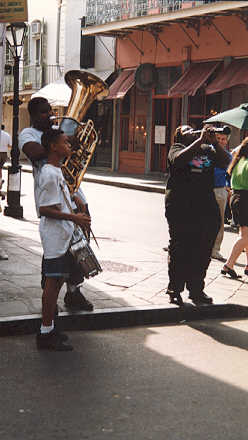 Mardi Gras
Mardi Gras Guide
Arthur Hardy's Guide to Mardi Gras
St. Charles Ave. Parade Cam
WDSU Parade Tracker App
WWL Parade Tracker App

Jazz Fest
New Orleans Jazz & Heritage Festival
Colleges and Universities
Tulane University
University of New Orleans
Loyola University
Xavier University
Delgado University
---
Return to B. Fleury's Home Page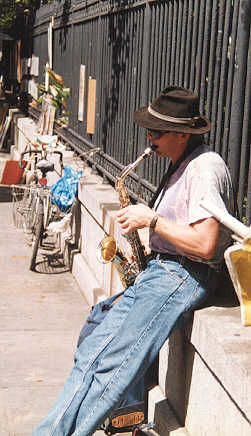 This page was last updated on 2/14/12
© 2000 - The contents of this page and all other pages by the author
that are directly linked to this page, including all photographs, are copyright 1/1/2001 by B. E. Fleury.
---