Hammerhead Ribozyme
References:
1. Pley, H.W., Flaherty, K.M. and McKay, D.B. (1994) Three-Dimensional Structure of a Hammerhead Ribozyme. Nature 372, 68-74. [Medline Abstract]
2. Scott, W. G., Finch, J. T. and Klug, A. (1995). The Crystal Structure of an All-RNA Hammerhead Ribozyme: A Proposed Mechanism for Catalytic Cleavage. Cell. 81, 991-1002. [Medline Abstract]
I. Ribozyme and Substrate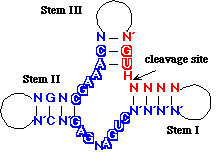 The minimal consensus structure for the hammerhead ribozyme is shown above. The sequences shown as outlines are required for efficient cleavage. Residues indicated by N can be any base and N´ indicates the complement of the base with which it is paired. The H at the cleavage site means any base but G. The lines at the ends of stems I, II , and III indicate that any number of bases may connect the two halves of each stem, or they need not be connected at all. In the 3-D structure to the left and the secondary structure above, the strand cleaved is shown in red and the rest of the molecule is shown in blue.
II. Tertiary structure
In the secondary structure below, the hammerhead is colored as it is in reference 1. Click here <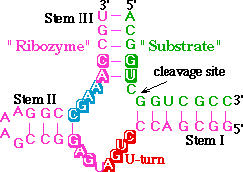 An alternative representation can be seen using this button <
IIa. U-turn
To see the atoms oriented as in Fig. 3 of reference 1, click here<
IIb. Domain II
Fig. 4 of reference 1 shows the "domain II" region of the hammerhead <
---
Comments or Suggestions to:Jim Nolan at jnolan@tulane.edu