Transfer RNA
---
Reference: Quigley, G. J. and A. Rich. (1976). Structural domains of transfer RNA molecules. Science. 194, 796-806.
[Medline Abstract]
I. Domains
tRNA Secondary Structure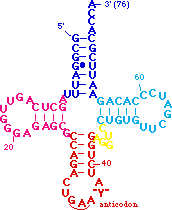 Click here <
The acceptor stem includes the 5' and 3' ends of the tRNA. The 5' end is generated by RNase P :-). The 3' end is the site which is charged with amino acids for translation. Some aminoacyl tRNA synthetases interact with both the acceptor 3' end and the anticodon when charging tRNAs. Note how far the 3' end is from the anticodon loop, at bottom, by clicking here <
II. Core Tertiary Interactions
Click the tertiary color button here <
The green residues are a reverse Hoogsteen pair between U8 and A14. This pairing is important for positioning of the D stem relative to the stacked T and acceptor stems.
The cyan residues are a base triple in which A9 H-bonds in the major groove to A23 (which is paired with U12). It stabilizes a sharp turn between bases 9 and 10.
The red residues are a base triple in which 7-methyl-G46 from the variable loop H-bonds to the G22-C13 base pair of the D stem. This helps dock the variable loop onto the D-stem.
A9 is also involved in another type of tertiary interaction: it is intercalated between bases 7-methyl-G46 and G45 <
II. U-turns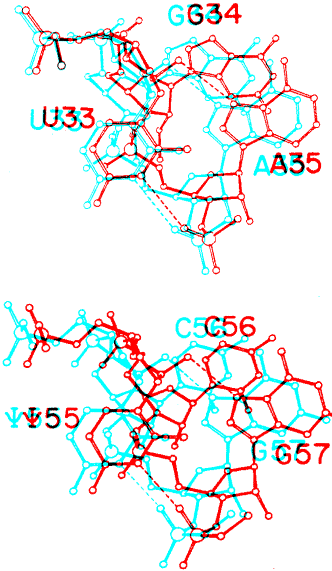 The conserved U-turn motifs are responsible for turns in the anticodon and T loops <
The U-turn motif is repeated in the "T-loop" of tRNA. This button zooms in on the T U-turn <

Back to intro to DNA-RNA structure.
---
Comments or Suggestions to:Jim Nolan