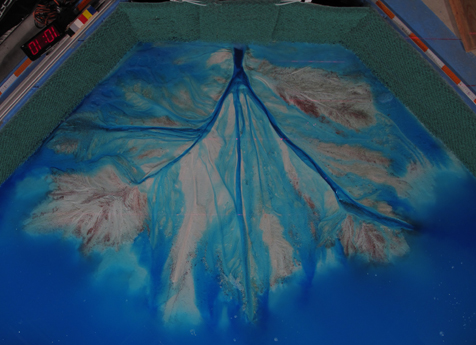 2012 Experiment on cohesive delta dynamics
and resulting stratigraphic architecture
Tulane Delta Basin: This basin has approximate dimensions of 0.65 m deep, 4.2 m long, and 2.8 m deep. Depth of basin is great enough to conduct experiments focused on delta construction under conditions of varying base-level. Millimeter resolution of base-level is controlled via a motorized weir in hydraulic communication with basin, while sediment is delivered to the basin via an Accufeed Vibrascrew Sediment feeder. Base-level, sediment feed, and water feed to the basin are controlled through a computer interface. Topography is collected with a FARO Focus3D-S 120 LiDAR Scanner. This system couples laser topography with a digital camera such that all points in a point cloud are tagged with RGB color data. Basin also houses a system to collect grain-scale digital images of large experimental sedimentary deposits.
See Video of an Experiment in the Delta Basin
See Images of the Delta Basin Construction