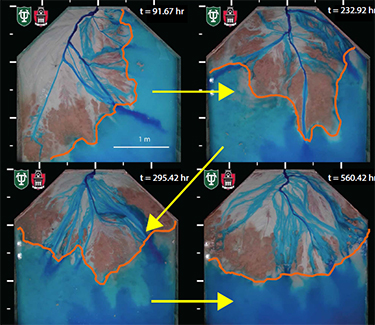 TSDS at EGU 2021

Jose Silvestre gave a poster presentation at the 2021 EGU virtual meeting this April on his experimental work on the coupling of marsh processes to clastic deltaic channel networks and their resulting strata. This was one of four TSDS related presentations at this years EGU conference. These included:

Silvestre, J., Sanks, K.M., Zapp, S., Shaw, J., Dutt, R., Straub, K.M., 2021, Exploring the relationship between organic deposition resulting from marshes and autogenic scales in deltaic stratigraphy.

Toby, S.C., Duller, R.A., De Angelis, S., Straub, K.M., 2021, Quantifying environmental signal propagation and preservation in ancient sediment routing systems using field data.

Griffin, C., Highman, J., Duller, R., Straub, K.M., 2021, Tracking signal propagation through landscapes using a granular avalanching system.

Wooldridge, P.W., Duller, R.A., Jerrett, R.M., Straub, K.M., 2021, "Quantification of fluvial-peat interactions in the Pikeville formation Central Appalachian Basin, USA.