Home

Sapping Channel Movies

---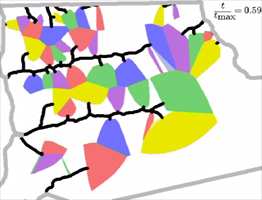 Backwards evolution of a seepage channel network in Bristol, FL
This movie shows the backwards evolution of the Florida network. Each colored polygon represents the geometric drainage area associated with the nearest channel head. The speed at which channels are retracted is proportional to this area. Note especially the simultaneous retraction of bifurcated channels to the original, unsplit, channel heads. Although we cannot be certain of the origin of all channel heads, the occurrence of such tip-splitting events at all times suggests that the backwards evolution is broadly correct.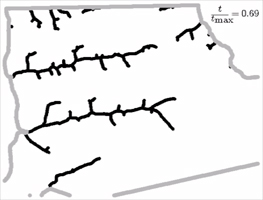 Growth reconstruction of a seepage channel network in Bristol, FL
This movie reconstructs the forward evolution of the Florida network. It contains the same information as above video, but without the colored drainage areas. Note that the precise time of the birth of new channels by tip-splitting and side-branching must be obtained from the backwards evolution of the above video. More details of this model can be found in manuscript:
Abrams, D.M., Lobkovsky, A.E., Petroff, A.P., Straub, K.M., McElroy, B., Mohrig, D.C., Kudrolli, A., Rothman, D.H., 2009, Growth laws for channel networks incised by groundwater flow, Nature Geoscience, v. 2(3), p. 193-196, DOI: 10.1038/NGEO432.