Blind Faults - are faults that does not break the surface - rocks above the fault have behaved in ductile fashion and folded over the tip of the fault.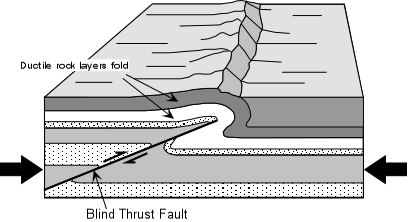 Active Faults- An active fault is one that has shown recent displacement and likely has the potential to produce earthquakes. Since faulting is part of the deformation process, ancient faults can be found anywhere that deformation has taken place in the past. Thus, not every fault one sees is necessarily an active fault.

Surface Expression of Faults - Where faults have broken the surface they are shown on maps as fault lines or fault zones. Recent ruptures of dip slip faults at the surface show a cliff that is called a fault scarp.
Strike slip faults result in features like linear valleys, offset surface features (roads, stream channels, fences, etc.) or elongated ridges

How Faults Develop - When tectonic forces generate stress, rocks start to deform elastically. Eventually small cracks to form along the fault zone. When rupture occurs, the stored elastic energy is released as seismic waves.