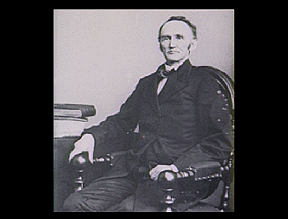 Montgomery Blair


The eldest son of Francis P. Blair, Montgomery Blair was born in Kentucky in 1813, where he received his early education. Having been appointed to West Point by President Andrew Jackson, Blair was graduated from the Academy in 1835. He served briefly in the Seminole War before resigning his commission and returning to Kentucky to study law at Transylvania University.

Blair moved to St. Louis, Missouri, in 1837, practiced law, and served in a variety of offices during the 1840s, including mayor of St. Louis. In 1853, however, he moved to Maryland where he practiced law, chiefly before the Supreme Court. A Democrat, he was associated with the free-soil wing of the party, which advocated the non-extension of slavery. He won attention from antislavery advocates for his legal efforts on behalf of the slave, Dred Scott, whose petition for was denied by the Supreme Court in 1857.

By 1860, Blair had joined the Republican Party, and he attended its Chicago convention as a delegate from Maryland. President Lincoln's selection of Blair as postmaster general was a recognition of his border state residence, former Democratic affiliation, family connections, and service to the party.
---
Bibliography: W. E. Smith, "Montgomery Blair," DAB, 2: 339-40; Smith, Blair Family.
---