Paleoclimatology
Before we can assess the human impact on global climates, we need to first look at how climates have varied in the past. The study of such past climate change is called paleoclimatology. Such study involves the study of earth history using stratigraphic methods to look for indicators of ancient climates. It also involves the study of how sea level has changed through time, again using clues left in the rock record and how ocean temperatures have changed in the past using stable isotope ratios observed in fossils. Because air can get trapped in glacial ice, drilling through the ice to find air bubbles trapped in the ice can be used to obtain samples of ancient atmospheres.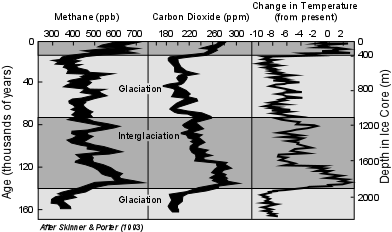 Combining this with radiometric age dates allows us to determine how concentration of CO2 and methane in the atmosphere has changed over time, as well as how dust concentrations in the atmosphere have varied. Paleoclimatology also involves using the data to construct computer models in attempt to understand the causes of past climate change and project how climates might change in the future.
From our study of glaciations we know that climate can change as result of natural processes, both becoming warmer and colder than present. Although these climatic fluctuations appear to be caused by Malinkovich cycles, it is interesting to note that during glaciations in the past the concentrations of greenhouse gasses in the atmosphere were lower, atmospheric dust was higher, and the Earth's albedo was higher, all of these factors could have contributed to cooler climates. Similarly, during past interglacial episodes, the atmosphere contained less dust, higher concentrations of greenhouse gases, and the Earth had a lower albedo, all of which contribute to warmer climates. The questions that remain to be answered are:
Are there higher concentrations of greenhouse gases and lower dust concentrations in the atmosphere due to the warmer temperatures or did they cause the warmer temperatures?
Are these differences simply due to Malinkovich cycles, or is there some other natural self regulating process that allows for cycles?
How do human affect these cycles?
Geologists have been able to reconstruct CO2 concentrations in the atmosphere for the past 100 million years, and average atmospheric temperature based on a wide variety of geologic and geochemical evidence. From this reconstruction, it appears that temperature was much higher than present during the Mid-Cretaceous, during the Eocene, and during the Pliocene. We will next look at what might have caused these periods of global warming.