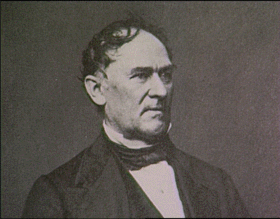 Orville H. Browning


Orville Hickman Browning was born in Kentucky in 1806, where for a time he attended Augusta College before studying law. In 1831, he moved to Adams County, Illinois, where he became active in politics. At various times, he held positions in both hous es of the state legislature.

A longtime friend and associate of Abraham Lincoln, Browning was a conservative Whig, who was reluctant to join the newly emerging Republican Party during the 1850s. When he did so, he had more in common with the conservative Republican hopeful, Edward Bates, than with Lincoln. In 1860, he initially favored Bates's presidential bid.

Following the death of Illinois's United States senator, Stephen A. Douglas, Browning was appointed to fill Douglas's unexpired term. He participated in the special session of Congress, which Lincoln called to meet in July 1861, and also the regular session of 1861-1862. His conservative bent was seen in his opposition to both presidential and congressional efforts to emancipate slaves.

When the Illinois state legislature returned to Democratic control, it replaced Browning. In 1863, however, he returned to Washington to establish a law firm, using his influence to gain special favors for contractors. Following Lincoln's assassination, Browning became a supporter of President Andrew Johnson against Congress's Radical Reconstruction program. Eventually, in September 1866, he became Johnson's secretary of the interior, and for a few months, he also held the post of attorney general. He left office on March 4, 1869, along with Johnson. He returned to Illinois where he engaged in law and politics. He died in 1881.
---
Bibliography: Theodore Calvin Pease, "Orville Hickman Browning," DAB, 3: 175-76.
---