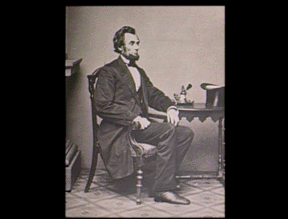 Abraham Lincoln


VIDEO: Lincoln's Biography (3.2 MB)
Abraham Lincoln, sixteenth President of the United States, was born in the slaveholding state of Kentucky in 1809. His humble origins were genuine. His father, Thomas Lincoln, was barely literate but, contrary to some accounts, was a respected carpenter and farmer, whose fondness for storytelling undoubtedly was passed on to his son. His mother, Nancy Hanks Lincoln, may have been illegitimate, and she died when he was only nine years old. Lincoln's formal education was limited and irregular, and he recalled later that when he came of age, he "did not know much." But Lincoln enjoyed reading, knew the Bible, and some history, Shakespeare, and other texts that served him well in his political career. Whatever his educational limitations, Lincoln had a strong, active mind that probed to the depths of an issue.
Shortly after the War of 1812, the Lincolns joined the flood of population surging westward in hopes of a better life. Critical of slavery, they initially moved to Indiana, and then continued westward to settle permanently in Illinois in 1830. Bright and ambitious, Lincoln cut his own path in life via the law and politics. His sought his first political office in 1832, in an unsuccessful bid for the state legislature. But a victory two years later sent him to the Illinois House, and began his rapid rise in both politics and law. In 1842, he married Mary Ann Todd, daughter of a Lexington, Kentucky, banker, and sister-in-law of a prominent Springfield, Illinois, politician and aristocrat, Ninian Edwards.
In politics, Lincoln was a Whig and an ardent admirer of Henry Clay. To promote national progress, economic development, and expanded opportunities for free labor, Clay advocated measures of economic nationalism, such as government assistance to banking, manufacturing, and transportation. But Lincoln shed the elitist bias that sometimes marked Whig Party leadership. The young Lincoln also revealed, on occasion, his hostility to slavery, at one point voting against a set of resolutions in the Illinois legislature that affirmed the constitutional legitimacy of the institution and asserted the impotency of the federal government to touch it, even in the District of Columbia. Slavery had no place in Lincoln's vision of a society that provided opportunities for advancement and rewards commensurate with effort. And the institution was, plainly put, morally "wrong."
Ever active in politics, Lincoln served one term in Congress during the presidency of James K. Polk. He criticized the Mexican War and endorsed a resolution demanding that slavery be excluded from any territory gained as a result of the conflict. Despite his support of measures to supply troops, Lincoln's anti-war position stirred considerable opposition at home.
By previous arrangement, Lincoln had to step aside for another Whig candidate in the following election. Refusing to accept President Zachary Taylor's offer of the governorship of the distant Oregon Territory, he returned to Illinois. He focused on his successful law practice, which earned him a substantial income. For a few years, his political aspirations dimmed.
With the resurgence of the slavery issue in the early 1850s, particularly passage of the Kansas-Nebraska Act (1854) repealing the earlier congressional ban on slavery in this territory, Lincoln reemerged as a leading political figure. He attracted not ice as a gifted speaker, identified himself with the newly organized Republican Party, and achieved sufficient prominence so that he received 110 votes for the vice-presidential nomination at the party's first national convention in 1856.
Two years later, Lincoln received his state's Republican senatorial nomination, and presented to the convention as his acceptance speech the idea that "'A house divided against itself cannot stand'." During this campaign, Lincoln engaged in a series of debates with the Democratic candidate Stephen A. Douglas. Although Lincoln did not win election to the Senate, the Lincoln-Douglas debates spread his fame and publicized his steadfast moral opposition to slavery. His recent renown, his residence in the pivotal state of Illinois, and his identification with Republican moderates contributed to his selection as the Republican Party's presidential nominee at its national convention in Chicago in May 1860 .
VIDEO: A House Divided (1.9 MB)
---
Bibliography: Thomas, Abraham Lincoln; Oates, Malice Toward None; Robert W. Johannsen, "Abraham Lincoln," American Presidents, 2: 286-328; James G. Randall, "Abraham Lincoln," DAB, ll: 242-59; Gabor S. Boritt, "Abraham Lincoln," The Presidents, pp. 253-70; Hofstadter, "Abraham Lincoln and the Self-Made Myth," American Political Tradition, ch. 5.
---