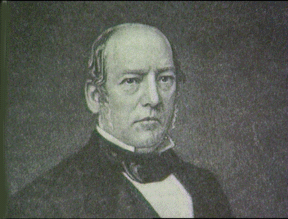 Caleb B. Smith


Born in Massachusetts in 1808, Caleb Smith moved to Cincinnati, Ohio, as a boy. He enrolled at both the College of Cincinnati and Miami University, but did not graduate. Instead, he began to study law both in Cincinnati and, soon after, in Indiana, where he was admitted to the bar in 1828.

Smith became involved in politics as a Whig. He had an interest in the Indiana Sentinel, which publicized Whig policies and advanced his own political career. He served for many years in the Indiana House of Representatives, and during the sessions of 1835-1836, and 1836-1837, he was speaker. He was especially prominent in promoting internal improvements, such as canals and railroads.

In 1842, Smith won a seat in Congress, to which he was reelected in 1844 and 1846. He spoke on a number of issues, but particularly against the annexation of Texas and the war with Mexico. With the election of a Whig president, Zachary Taylor, in 1848, Smith was appointed to a seat on the board of commissioners to adjust claims against Mexico. In 1851, he returned to the practice of law and business.

With the collapse of the Whig Party in the 1850s, Smith joined the Republican Party and became one of its leaders in Indiana. He seconded Lincoln's nomination at the 1860 Republican convention, and campaigned vigorously for him. Smith's appointment to the cabinet as secretary of the interior was intended to recognize the state of Indiana, as well as to honor a promise made by Lincoln's managers for Smith's support at the convention. Smith served in the cabinet only until December 1862, when his failing health led to his resignation. Lincoln appointed him judge of the United States district court for Indiana, but a little more than a year later, in January 1864, Smith died.
---
Bibliography: Newton D. Mereness, "Caleb Blood Smith," DAB, 17: 244-45; Nevins, Emergence of Lincoln, 2: 443-44.
---