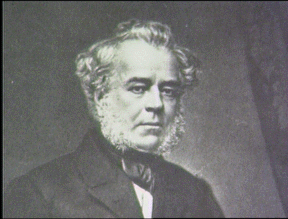 James Watson Webb


The prominent New York newspaper editor, James Watson Webb, was born in Claverack, New York, in February 1802. Orphaned at an early age, he was placed under the guardianship of his brother-in-law, and schooled for a time at Cooperstown. When he was seventeen, Webb appeared in Washington, D.C., with a letter of introduction to Secretary of War John C. Calhoun. Joining the army, he was given a commission as second lieutenant. Mostly stationed in the western region of Illinois and Minnesota, he found in the adventure and danger of the military an outlet for his impulsive temperament. He fought two duels with fellow officers, and came close to many others, before he resigned from the army in 1827.

Webb then headed for New York City, where he soon achieved fame as a journalist. He bought the Morning Courier, and in 1829, acquired and merged it with the New-York Enquirer. He remained editor and proprietor of the Morning Courier and Enquirer until 1861, when he sold the paper and retired. Highly partisan and emotional, Webb was frequently involved in controversy and quarrels. In an age of personal journalism, his competitive and brash qualities made him among the most influential editors in the country.

At first a Jacksonian, Webb abandoned Andrew Jackson for the Whig Party during the Bank War. In the 1850s, he joined the Republican Party. A staunch unionist, he was appointed by Lincoln as minister to Brazil, where he served throughout the Civil War. He left the diplomatic service in 1869, traveled for two years in Europe, and then retired to New York, where he mostly lived until his death in 1884.
---
Bibliography: Eleanor M. Sickels, "James Watson Webb," DAB, 19: 574-75.
---