---
Ornithology - EBIO 4200 - 6200
---
---
---
Return to B. Fleury's Home Page
---
Instructor: Dr. Bruce E. Fleury, Stern 4030 (x8290)


email: bfleury@tulane.edu
home page: http://www.tulane.edu/~bfleury/
---
Office Hours: Stern 4030 - Mon., Wed. & Fri. 11:15-11:45, 1:45-2:45, 4:00-4:45, or by appointment.

Class Meets: MWF from 12:00 to 12:50 - Boggs 240.
---
Labs and Field Trips: Labs meet on Thursday from 1:00 to 5:00 P.M. in SELAB 212. Some field trips will be held on Saturday or Sunday (see lab syllabus for details). No lab will be held on Wednesdays if a weekend trip is planned for that week.
---
Textbooks: Frank B. Gill, Ornithology (latest ed.). W. H. Freeman.
Peterson, R. T. P., A Field Guide to the Birds, Eastern Birds (latest ed.). Peterson Field Guides, Houghton Mifflin.
---
Course Philosophy: Birds are the living descendants of dinosaurs. They are among the most visible and active animals that we encounter in our daily lives, yet few people appreciate their marvelous adaptations or their complex behavior and life cycle. This class will introduce you to this fascinating group of animals, as well as familiarize you with the diverse habitats of southern Louisiana.
---
Equipment: Dissecting kit, usually available at the Tulane bookstore, and binoculars We can loan out a limited number of binoculars (Nikon Travelites), but we strongly suggest you use or purchase your own, we can help you with selecting an appropriate pair.

---
Exams and Grading: There will be three hour exams (no final exam). Each lecture exam (including the final exam) will count 100 points. Exams will consist of objective and short essay questions. The first lab exam, worth 50 points, covers identification and anatomy. The second lab exam will be a 50 point test of your bird identification skills in the field. Your final combined lab/lecture grade will be based on a percentage of 460 points:

Hour Exams 300 Lab Notebook 20
Lab Exam 50 Field ID Exam 50
CBC Lab Report 20 Participation 20


Final grades will be calculated as a percentage of 460 points as shown below:


| | | | | | |
| --- | --- | --- | --- | --- | --- |
| A | 93-100 | A- | 90-92 | | |
| B+ | 87-89 | B | 83-86 | B- | 80-82 |
| C+ | 77-79 | C | 73-76 | C- | 70-72 |
| D+ | 67-69 | D | 60-66 | D- | 55-59 |



---
Outcomes and Assessment

:

This class and lab will encourage departmental majors and minors in both EEB and ENVS to become familiar with the diversity of birds, their ecological importance, and their evolutionary relationships. Lab reports will require students in both programs to demonstrate written communication skills in their lab reports and field notebooks. Conservation of birds and their habitats will be an important emphasis in both lecture and field work. Specific aims for both programs will include the following: knowledge and evaluation of the competing theories concerning the origin and early evolution of birds, particularly with regards to their relationship with dinosaurs; knowledge of the modern phylogenetic schema of birds in relation to other vertebrates; evaluation of the competing theories for the origin of avian fight; analysis and appreciation of the physics of avian flight; thorough introduction to the nature of avian behavior, including neuroanatomy and mechanisms of neurophysiology; understanding and appreciation of the complexities of avian behavior and social behavior in the context of reproduction, growth, foraging, flocking, and avian coloniality; an appreciation of the life histories of birds in relation to general life history theory; the nature and importance of avian habitat, and its preservation; and field experience that will introduce students to every important habitat type common to southern Louisiana and the Gulf Coast.

---
Lectures -- Readings
Suggested readings from your text are listed below. Additional readings may be announced in class. All readings are available online through Blackboard.

---
I. Origin and Evolution of Birds
January

11 Origin of Ornithology, White, Gill 1
13 Dinosaurs and Birds, Gill 2
15 Dinosaurs and Birds, Feduccia, Dino-Aves Clades (BB)
18 MLK Holiday
20 Origin of Birds, Sloane (BB), Prum
22 Origin of Birds
25 Evolution of Flight, Padian and Chiappe (BB), Prum &Brush (BB)
27 Modern Birds, Cracraft Cladogram
29 Modern Birds, Salzman, Harris (BB)
February
1 Modern Birds, Salzman (BB)

---
II. Flight and Energetics

February

3

Adaptations for Flight,

Gill 4


5 Adaptations for Flight, Gill 5
8

Mardi Gras


10 Adaptations for Flight,

Gill 5


12 Physiology,

Gill 6


15 Physiology


17

Physiology




---
III. Brain and Behavior
February

19 Bird Brains, Gill 7
22 First Lecture Exam
24 Sensory Physiology, Gill 7
26 Annual Cycles, Migration, Gill 9,10, Molt Sequence (BB)
29 Orientation, Navigation, Gill 10

March

2 Vocal Communication, Gill
4 Vocal Communication
7 Territoriality, Gill 11
9 Territoriality
11 Foraging Behavior Gill 20
14 Flocking, Coloniality 1, Gill 11
16 Flocking, Coloniality 2, Gill 11
18 Second Lecture Exam
21-28 Spring Break
---
IV. Mating and Reproduction

March

30

Mating Systems,

Gill 12,

Emlen & Oring (BB)





April




1 Mating Systems, Bowerbirds, Gill 13, Borgia (BB)
4 Reproduction - Nests and Eggs, Gill 14, 15
6 Reproduction - Development
8 Reproduction - Parental Care, Gill 16
11 Reproduction - Parental Care
13 Reproduction - Parental Care
15 Brood Parasites, Helpers
18 Brood Reduction, Cainism , Stenning, Mock (BB)
20 Life Histories 1, Gill 17, Martin (two papers on BB)
22 Life Histories 2
25 Third Lecture Exam


---
Contact Info: slantz@tulane.edu
Lab Meets: 1:00-5:00 PM Thursday in SELAB 212; field trips meet in front of Reilly at the shuttle bus stop, departing at 1:00 PM unless otherwise specified. Labs are scheduled until 5 PM, and will often go the full period. Because of the vagaries of suburban traffic etc. we may occasionally return from the field shortly after 5 PM.


---

Equipment: Dissection kits must be purchased from the bookstore for the labs on avian anatomy. Dissections will be done in pairs. Work carefully, and be sure each lab partner gets an equal opportunity to dissect. You will need to obtain a good pair of binoculars. We can advise you on this purchase, and loan you a pair to use until you get your own. You should subscribe to the Louisiana birding listserve at LSU. Go to http://www.museum.lsu.edu/~Remsen/LABIRDintro.html for details. This email listserve often contains useful information on who is seeing what in and around the state, as well as alerting you to rare or unusual species in our vicointy.

---

Field Trips

There will be several field trips during the semester. Two of these field trips will be held on Saturday: Grand Isle, and Dauphin Island. Please mark your calendars well in advance. No lab will be held on Thursday if a weekend trip is scheduled for the following Saturday. I hate getting up early on Saturday as much as you do, but by mid-afternoon, birds are quieter, higher up in the trees, and much harder to observe. These trips are an essential part of the class, and will introduce you to a wide variety of local habitats. During the Grand Isle field trip, you will be tested on your ability to identify birds in the field.

Field trips will meet in the bus shelter near the front of Reilly Center, unless otherwise notified. All field trips will depart on time. You should plan to arrive at least 15 minutes before departure for attendance etc... Please dress appropriately. Short pants, sandals, or open-toed shoes are a very bad idea, due to the primitive trails, mud, poison ivy, and biting bugs we may encounter. You may wish to pack a lunch or snack, and bring a thermos of coffee or cold water. Attendance at labs and field trips is mandatory. Each unexcused absence from labs or field trips will result in ten points being deducted from your final grade. If you miss three labs or more, you will be dropped from the course.

You will be required to keep a detailed lab notebook of your observations, including birds seen on field trips (when/where/habitat etc..). Composition style notebooks are available in the bookstore. These notebooks will be handed in at mid-semester for preliminary review. Lab reports will take the form of a short scientific paper. Further details on format and length of reports, and instructions on organizing and maintaining your lab notebook, will be supplied in lab.

---

Lab Schedule
January

21 Intro, binoculars, Audubon
28 75 common birds of Louisiana, Audubon Park

February

4 Avian Anatomy - External
11 Avian Anatomy - Internal
18 Urban birds I (Bayou Sauvage, City Park etc.)
25 Lab Exam -- Anatomy and Identification
March

3 Audubon Zoo
10 CBC Data Lab** (meets in SE212, bring your laptop!!)
17 Urban birds II (Bayou Sauvage, City Park etc.)
24 Spring Break
31 Honey Island or Dauphin Island (April 2d, 6:30 AM - 7:00 PM)

April
7

Honey Island or Dauphin Island (April 9th, 6:30 AM - 7:00 PM)
14

Grand Isle (Sun. April 17 - 6:30 AM - 7 PM) --

Final lab exam


21 Saturday 23 rain make up day for Grand Isle

** Lab write ups for the CBC lab will be due in class April 3d. Field notebooks will be due no later than the last day of class. Reports or notebooks submitted after that day will be penalized 5 points per day late.




---


Ornithology on the Internet




Birds and Birding in Louisiana and the Gulf Coast




Weather for Birding




Resources for CBC Data Lab



Birds of North America Project Home PageUSGS Biomonitoring Program



Search Engines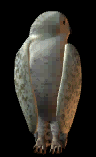 Back to Top
---



Info for Wild Bird Rehabilitation





International Wildlife Rehabilitation Council


www.iwrc-online.org
(magazine on rehabilitation, information on training, publications)





National Wildlife Rehabilitators Association


www.nwrawildlife.org/home.asp



Louisiana

Wildlife Rehabilitators Association


www.louisianawildliferehabilitators.com
(training workshop information is sometimes posted here, find local rehabilitators)



In order to become a wildlife rehabilitator of mammals and/or reptiles in Louisiana, you must obtain a wildlife rehabilitatorís permit from the Louisiana Department of Wildlife and Fisheries (LDWF).

In order to rehabilitate native wild birds, you must first obtain a federal permit from the U.S. Fish and Wildlife Service and then a state permit from the LDWF.



For an application to become a federally permitted wild bird rehabilitator write to:
U. S. Fish and Wildlife Service, P. O. Box 49208, Atlanta, GA

30359
(404) 679-7070



For an application to become a licensed wild animal rehabilitator in the State of Louisiana, write to:
Louisiana Department of Wildlife and Fisheries, Natural Heritage Program, P. O. Box 9800, Baton Rouge, LA

70898-9000





Falconry Information





In order to become a falconer you must obtain a joint state and federal falconry permit, a Game Breederís permit from the LDWF and must possess a valid hunting license from LDWF.

In order to obtain a license you must pass the falconry exam, build facilities and have them inspected by a wildlife officer, and obtain a sponsor (licensed falconer).



Stephen Sorensen, Falconry Coordinator, Wildlife Division
Louisiana Department of Wildlife and Fisheries
E-mail:

Sorensen_SG@wlf.state.la.us
Office:

(225) 765-2374
(Mr. Sorensen will send a copy of the state and federal falconry regulations.)



For a federal falconry permit application write to:
U. S. Fish and Wildlife Service, P. O. Box 49208, Atlanta, GA

30359
(404) 679-7070



North American Falconers Association

www.n-a-f-a.org



Thanks to Jennifer Coulson for this info!!



Back to Top
---
This page was last updated on 1/22/16
---