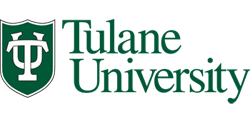 LAW SCHOOL LIBRARY
GOVERNMENT DOCUMENTS


The following lists suggest the best sites to find government information available online for federal and state government.



The Tulane Law Library is one of approximately 1,400 Federal depository libraries throughout the United States and its territories, at least one in almost every Congressional District. All provide free public access to a wide variety of Federal government information in both print and electronic formats, and have expert staff available to assist users. The Law Library is also a Louisiana State Documents Depository as well as receiving some international documents on deposit.
The Tulane Law Library became a Congressionally designated federal depository library in 1976, with the assistance and support of Lindy Boggs, our Congressional Representative at the time here in the 2nd Congressional District. We were assigned the depository number 0227-A. Public Law 95-261 [92 Stat. 199], which gave accredited law schools the opportunity to become part of the depository program under a special designation category, was enacted in 1978. In 1985, the Government Printing Office (GPO), which administers the depository program, requested that we change our designation from a Congressional one to a law school one, in order to free up another Congressional designation in the 2nd District. We agreed to do so, and the change was made in July of 1985. Our depository number remained the same, and there was no change in our depository shipments or operations.
By becoming a federal depository library, we agreed to abide by our responsibilities as specified in Tittle 44 of the United States Code.
We receive approximately 26% of the item numbers available for selection from the GPO, a percentage that is more than twice the average selection rate for law libraries. Our collection is based on the needs of the law faculty and students, as well as the community at large. We cooperate with other depositories in the area in order to ensure that our collection is both responsive to the information needs of our users, and efficient in its operation.

Federal Government:
General Information

USA.Gov ("One stop shopping" for government information)
FDSys (search for information and publications from the US Government Printing Office)
GPO Catalog of U.S. Government Publications (search for government documents)
GPO Book Store (also see the commercial version from Claitor's)
Marcive (you must have a Tulane email username and password)

an online version of the Monthly Catalog, allows searching for documents by subject, author, title, key word, issuing agency, classification numbers, and report numbers, Congressional hearings, and also to the full text of historical Serial Set volumes containing House and Senate reports and documents.



HeinOnline

(you must have a Tulane email username and password)

to search the Federal Register Library, U.S. Presidential Library, U.S. Attorney General Opinions, U.S. Statutes at Large, U.S. Supreme Court Library, or the U.S. Federal Legislative History Library.

Return to the Table of Contents

Federal Government:
Legislative and Regulatory Information
Congress.Org (Searchable member directories and current awareness)
Library of Congress (Guide to the U.S. Legislative Branch)
Congress.gov (search & retrieve legislation from as early as the 93rd Congress (1973) in some files to the current Congress)
Proquest Congressional (you must have a Tulane email username and password)

Return to the Table of Contents


The Louisiana State Documents Depository Program (LSDDP) was established by the Louisiana Legislature in 1948. This program assures that the state's citizens have free, convenient access to Louisiana's public documents. The public documents from state agencies and institutions are distributed to the 41 academic, public and special depository libraries
where everyone can use these materials. Tulane Law Library is a State Depository Library.

State Information
Municipal Code Corporation (The

Municipal Code Corporation (MCC)

is a leading publisher of local government Ordinances)
State Government Information

American Law Sources On-Line (ALSO)
FindLaw State and Federal Resources by Jurisdiction
Louisiana Information
Return to the Table of Contents

Statistical Resources
Return to the Table of Contents

Last Modified: March 19, 2014
For comments or suggestion concerning this page, please contact Carla Pritchett
URL of this Page: http://www.tulane.edu/~cpritch/