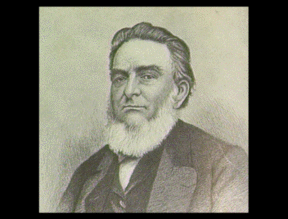 Edward Bates


Lincoln's attorney general, Edward Bates, was born in 1793 in Virginia, the son of a planter and merchant. His formal education was limited, but he received instruction from his father and relatives. He served briefly in a volunteer militia company during the War of 1812.

At the suggestion of his brother, who was secretary of the Missouri Territory, Bates went to St. Louis in 1814, studied law, and was licensed to practice two years later. He became involved in politics, holding several local offices, including attorney general, before being elected to Congress in 1826. As a National Republican, he opposed Andrew Jackson, a stand that contributed to his defeat for reelection in 1828. Bates returned to the state legislature and private law practice for a number of years. In the late 1840s, he established a national reputation as a leading spokesman for internal improvements and was offered a position in President Millard Fillmore's cabinet. Bates declined the post, however.

As the issue of slavery expansion intensified during the 1850s, Bates took his stand with those who favored keeping the territories free. He remained a Whig through its 1856 convention, but inevitably gravitated to the Republican Party. As a border state conservative, Bates was widely mentioned as a presidential candidate for the 1860 Republican nomination. But at the Chicago convention, he never received more than forty-eight votes, and with the nomination of Lincoln, his candidacy collapsed. While Bates's border state and conservative credentials came up short at Chicago, they served him well when Lincoln selected his cabinet. Lincoln appointed him attorney general, and Bates became the first cabinet member to be chosen from the region west of the Mississippi River.
---
Bibliography: Thomas M. Marshall, "Edward Bates," DAB, 2: 48-49.
---