Saturday January 19, 1861





Georgia Secedes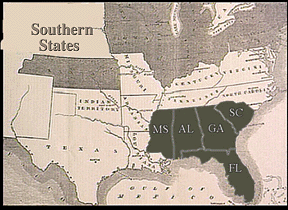 The same day as Virginia issued its call for a peace convention, the state of Georgia left the Union. At Milledgeville, on this day, the vote to secede from the Union passed, 208-89.
As in some other southern states, this majority masked the strength of the anti-secessionists. In the election for delegates to the Georgia convention, held on January 2, the number of votes for cooperation was close to that for secession, and may even have constituted a majority. But at the convention itself, which convened on January 16, secessionist forces carried the day, and the actual vote for secession was designed to give the appearance of a united front.
---
Bibliography: Thomas, Confederate Nation, pp. 52-54; Potter, Impending Crisis, pp. 496-98.
---