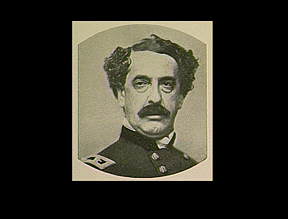 Abner Doubleday


Captain Abner Doubleday was born at Ballston Spa, New York, in 1819, and attended schools at Auburn and Cooperstown. He attended West Point, and graduated in 1842 with a commission in the artillery. Doubleday served in the Mexican War and, during the 1850s, in a campaign against the Seminole Indians in Florida. He was promoted to captain in 1853, and was stationed in Charleston Harbor when the crisis at Fort Sumter occurred.

As a staunch unionist who strongly opposed slavery and supported Lincoln, Doubleday regarded the Carolinians as traitors. His opinions won him no friends in Charleston. His wife shared his views, and while she was staying in Washington in mid-March 1861, she was consulted by Lincoln after his cabinet first gave its views about relieving the fort. Lincoln wished to see her husband's letters so that he could get a fuller picture of the situation at Sumter.

After the surrender of Sumter, Doubleday served in numerous campaigns throughout the Civil War, and was promoted to lieutenant colonel in 1863. After the war, he attained the rank of colonel before retiring from active service in December 1873. He then made his home in Mendham, New Jersey, where he died in January 1893. He was buried in Arlington National Cemetery.

Doubleday has often been credited with inventing the game of baseball in 1839 at Cooperstown, New York, now the location of the baseball's Hall of Fame. This claim appears to date from the late nineteenth century, when baseball owners tried to disassociate the game from any connection to the English game of rounders. The assertion that Doubleday invented baseball is almost certainly untrue. Doubleday was not at Cooperstown in 1839; he never referred to the game, much less claimed that he invented it, and his obituary in the New York Times did not mention baseball, either.
---
Bibliography: Thomas M. Spaulding, "Abner Doubleday," DAB, 5: 391-92; Swanberg, First Blood, pp. 3-10, 238; Henrickson, Sumter, pp. 39-40; Will, Men at Work, pp. 294-95.
---