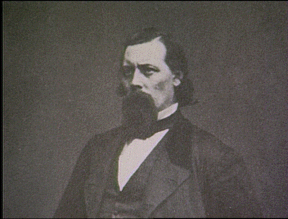 Ward Hill Lamon


Born in Virginia in 1828, Lamon studied law in Louisville, Kentucky, and settled in Danville, Illinois, where he was admitted to the bar. Lamon's association with Abraham Lincoln began in the 1850s, when he became a law partner and traveled with Lincoln on the circuit. Although Lamon's southern sympathies and bitter attacks on abolitionism set him apart from Lincoln, the men remained personal friends. Lamon joined the Republican Party and campaigned for Lincoln in 1860.

One of Lamon's key responsibilities was to guard Lincoln. Physically imposing and possessing an expansive and exuberant personality, Lamon was selected to accompany Lincoln on the midnight train ride to Washington through Baltimore. Later, when other plots against the President were suspected, Lamon supervised security at the White House, and slept next to Lincoln's bed-chamber. Lincoln appointed him marshall of the District of Columbia, in which capacity he served until June 1865 . Lamon was absent from Washington on the night of Lincoln's assassination.
---
Bibliography: James G. Randall, "Ward Hill Lamon," DAB, 10: 562-63.
---