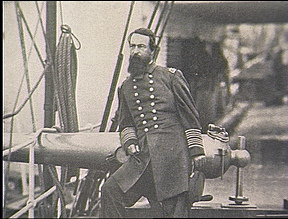 David D. Porter


David Dixon Porter was the son of Captain David Porter, a naval hero in the War of 1812. Born in 1813, in Chester, Pennsylvania, he received little formal education, but at an early age accompanied his father on cruises. He joined the Mexican navy before returning to the United States in 1829 to receive an appointment as midshipman in the American navy. He served in the Mediterranean, Brazil, the Coast Survey, and at the Hydrographic Office in Washington, D.C. Promoted to lieutenant in 1841, he saw action in the Mexican War and received his first naval command at this time.

After the Mexican War, Porter worked for a number of private steamship firms before returning to the navy in 1855. As commander of the Supply, a storeship, he made two voyages to the Mediterranean for camels, which the army intended to use as pack animals in the Southwest. By early 1861, disgruntled by the lack of prospects in the navy, he was on the verge of resigning when Secretary of State Seward chose him to command the Powhatan in the secret expedition to relieve Fort Pickens.

After arriving at Pensacola, Porter remained for six weeks performing guard and blockade duties before proceeding to Mobile, where he instituted a blockade. After promotion to the rank of commander in August 1861, Porter helped plan and participated in the New Orleans expedition. In 1862, he was chosen as commander of the Mississippi Squadron, over the superior claims of numerous officers. He owed this assignment to the high opinion of his energy and bravery held by Lincoln, assistant secretary of the navy, Gustavus Vasa Fox, and also secretary of the navy, Gideon Welles. He kept the Mississippi River open and cooperated with the army in the capture of Vicksburg. He was promoted to rear admiral in July 1863.

Later in the war, Porter commanded the North Atlantic Blockading Squadron and was instrumental in the capture of Wilmington, North Carolina, and its defenses. Following the war, he was appointed as superintendent of the Naval Academy, where he obtained increased congressional funding, enlarged the Academy's physical plant, and reformed its curriculum. He became vice admiral in 1866 and admiral in 1870, and served the Grant administration as naval adviser. His last years were spent on relatively unimportant naval duties and in a number of literary endeavors, which, according to one biographer, "he alone greatly admired." Porter died in Washington in 1891 and was buried in Arlington Cemetery.
---
Bibliography: Charles O. Paullin, "David Dixon Porter," DAB, 15: 85-89; Bearss, "Civil War Operations . . . Part II," pp. 235-36.
---